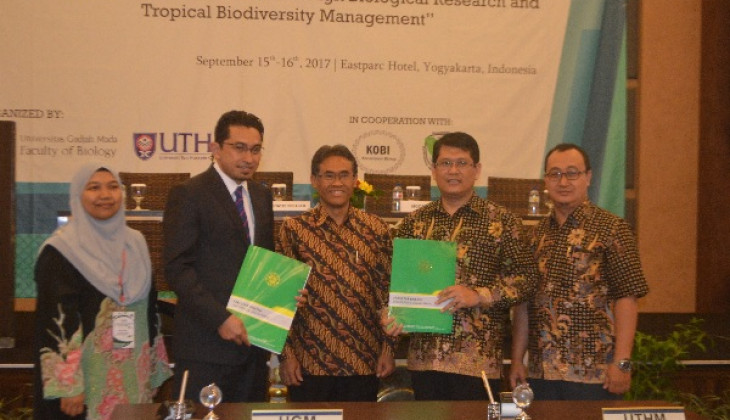 As many as 200 world experts were present in the 5th International Conference on Biological Science (ICBS) 2017, run by Faculty of Biology UGM, from 15-16 September 2017, in East Parc Hotel Yogyakarta to discuss life science research.
Participants of the event came from countries such as Japan, Sweden,Germany, Netherlands, Australia, Malaysia, as well as Indonesia. It was opened by Rector of UGM, Prof. Ir.Panut Mulyono,M.Eng., D.Eng.
"Biology has important contribution to economic development. Hopefully, through this conference new biology research and technology in biology may emerge that is beneficial to human lives," he said.
Dean of Faculty of Biology UGM, Dr. Budi S. Daryono, M.Agr.Sc., said biology research has important significant role to realise better lives of human beings and sustainable development. It is therefore important to advance biology scientific discipline and establish networks as well as share ideas and research nationally and internationally.
Event chairperson, Tuty Arisuryanti,Ph.D., said the Conference raised the theme Inventing Prosperous Future through Biological Research, having eight topics, such as ecology and conservation, biosystematics, nano biotechnology, and biomaterial.
The Conference presented keynote speakers, Prof. Dr.Keiko Natsuaki from Tokyo University of Agriculture; other speakers were Prof. dr. Herman P.Spaink, Universiteit Leiden, Prof. Dr. Ingo Schubert, Leibinz Institute of Plan Genetics and Crop Plant Research Germany, Prof. Datin, Dr. Maryati Mohamed, Universiti Tun Hussein Onn Malaysia, and Darmawan Prasodjo,Ph.D., Deputy I of Presidental Staff Office.
Furthermore, there was an agreement of cooperation being signed between Faculty of Biology UGM and Faculty of Science, Technology, and Human Development Universiti Tun Hussein Onn Malaysia in education and research areas on student and lecturer exchange, research collaboration, and joint seminar.
In addition, peatland restoration research team was established between Faculty of Biology UGM and Peatland Restoration Agency, and launching of animal model of research which is zebra fish between IBL Leiden and Faculty of Biology UGM.