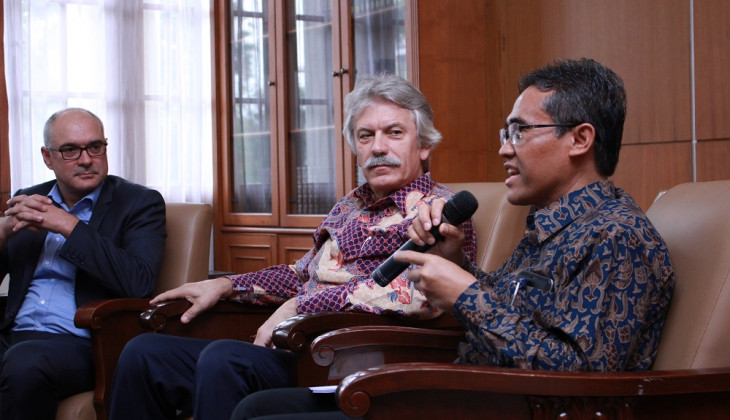 Universitas Gadjah Mada and Insig2 Croatia are collaborating in the areas of cyber security and digital forensics. Gamatechno, one of UGM's business endeavours, will follow this up by developing the products.
The Rector of UGM, Prof. Ir. Panut Mulyono, M.Eng., D.Eng., welcomed the cooperation. According to the Rector, the cooperation was expected to boost the research and business development in applications for cyber security and digital forensics. "We want to enhance the cyber security and digital forensics. In this case Gamatechno is the partner for such cooperation," said the Rector after signing the cooperation agreement with the CEO of Insig2 Croatia, Goran Oparnica, on Tuesday (10/10) in the Conference Room, at the UGM Main Office.
The Rector emphasised the importance of the collaboration to support Indonesia's digital economy. "This collaboration can give mutual benefits and impact on the welfare of the country," he said.
Goran Opranica said the collaboration was expected to produce applications for cyber security and digital forensics to assist communities and e-commerce businesses. He added digital forensics needs to be developed further in Indonesia, because threats from hackers in the cyber and digital world can be damaging and need to be anticipated in advance.
"Protecting communities and digital investments is required through cyber security and digital forensics," he said. He added cyber security is different from the real world security, because digital security needs special expertise.
The event was attended by the Croatian Ambassador to Indonesia, Drazen Margeta, and UGM's Vice-Rector for Cooperation and Alumni, Dr. Paripurna Sugarda.
Ambassador Margeta appreciated the collaboration between UGM and Insig2 that would enhance the ties between Indonesia and Croatia. He expected the cooperation would further boost the e-commerce market in Indonesia.