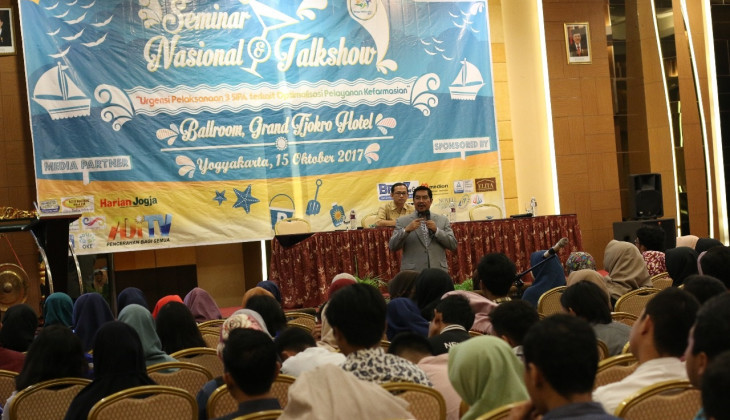 Faculty of Pharmacy Universitas Gadjah Mada held a national seminar, Pharmacious 2017, entitled Urgency of Three Pharmacist Practice Licenses Related to Optimization of Pharmacist Role. The seminar was held on Sunday (15/10) at Grand Tjokro Hotel Yogyakarta, presenting several keynote speakers who are experts in the pharmaceutical field, including Drs. Nurul Falah Eddy Pariang, Apt. (Head of Indonesian Pharmacist Association), Drs. Heru Sunaryo, Apt. (Directorate of Pharmaceutical Service, Indonesian Ministry of Health), as well as Novi Dwi R., M.Sc., Apt.
Heru as the first panelist delivered a presentation entitled Monitoring the Implementation of Ministry of Health's Regulation Number 31/2016. He explained changes in the regulation where Practice Licenses have to be owned by pharmaceutical personnel who will undertake pharmaceutical work in accordance with their place of work. There are two types of pharmacist practice license which are Pharmacist Practice License (SIPA) and Pharmaceutical Technical Personnel Practice License (SIPTTK) for pharmaceutical medical personnel.
According to Heru, Pharmacist Practice License in pharmaceutical facilities is given to pharmacist to work only in one place. Excluded from that condition, the license can be used by pharmacists who work in pharmaceutical service facilities for at most three facilities. Heru further said pharmacist who already has the license is allowed to only have two licenses for other pharmaceutical service facilities.
"Meanwhile, the Pharmaceutical Technical Personnel Practice License is only applied for at most three pharmaceutical facilities," said Heru.
Heru said currently the Ministry of Health was giving training and monitoring regarding the implementation the Regulation Number 31/2016 which aims to protect the patient and community in the implementation of pharmaceutical work by pharmacists. In addition, those programs aim to maintain and enhance the quality of pharmaceutical work corresponding to the development of science and technology.
"The training and monitoring are also held to give a legal certainty to the patient, community, and pharmacist," said Heru.
On the other hand, Nurul Falah highlighted the responsibility of pharmacist who has more than one licenses. According to Nurul, pharmacists have to provide service by implementing the "explain and describe" principles where they should give information regarding medicinal preparation, how to use the medicine, its side effects, and other essential information.
Vice Dean of Research, Community Service, Cooperation and Alumni Faculty of Pharmacy UGM, Dr. R.R. Endang Lukitaningsih, M.Si, who also attended the event agrees with Nurul's opinion. According to Endang, the presence of pharmacist is important for the patient in pharmaceutical service.
"The existence of pharmacist can prevent cases of drug abuse," said Endang.
Endang hopes this seminar can give knowledge to pharmacists and prospective pharmacists on how to perform pharmaceutical practices and recognizing the advantages and disadvantages of having more than one licenses.