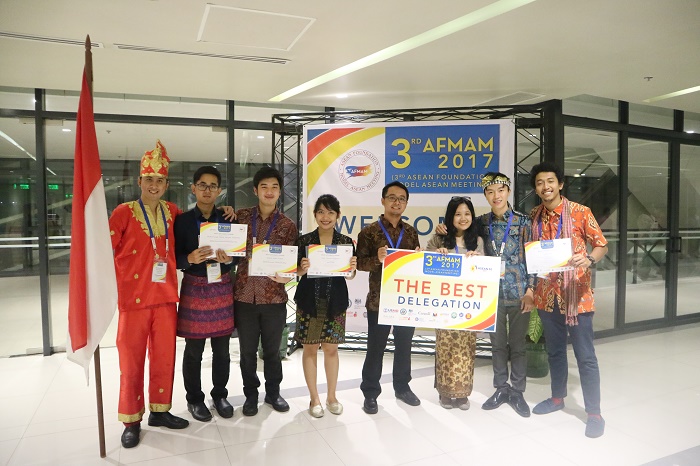 Universitas Gadjah Mada students have won the Most Diplomatic Award during the ASEAN Foundation's Model ASEAN Meeting (AFAM) 2017, held in Manila from 25-30 September.
It was Angelo Abil Wijaya, an international relations student, who won the award together with six other students from UGM, UI and ITS. The others are Wyncent Halim, Made Deninta Ayu Dhamayanti, Maulana Syarif Habibi, Muhammad Habib Abiyan Dzakwan, Muhammad Radhiyan Pasopati Pribadi, and Neta Cynara Anggina. The delegation was accompanied by faculty advisor, Rakhmat Syarip, a lecturer from the University of Indonesia.
Angelo said the event raised the theme "Anticipating the Environmental Displacement of People in Asean due to Global Climate Change". It was attended by over 80 participants from 10 ASEAN countries: Brunei Darussalam, Cambodia, Laos PDR, Malaysia, Myanmar, the Philippines, Singapore, Thailand, Vietnam, and Indonesia.
Previously, all the participants had been selected nationally. Angelo and the team had to compete with over 70 teams from around Indonesia. At the ASEAN level, they competed with 120 teams to finally select one team from each country.
Angelo said in a press release sent on Wednesday (18/10), that in the conference the Indonesian delegation could showcase its abilities in negotiating and diplomacy, as proved by the numerous awards they brought home. Apart from the Most Diplomatic Award for Angelo in the Pillar of ASEAN Economic Community category, the Most Diplomatic Award also went to Muhammad Habib Abiyan Dzakwan in the Pillar of ASEAN Socio-cultural Community category and to Neta Cynara Anggina.
"The Indonesian delegation also earned two awards, Most Diplomatic (Country) Award and Best Delegation Award," Angelo said. He is currently on a student exchange program in the UK at the University of Glasgow.
Angelo added the conference was marked by its constructive discussions. Each of the delegations presented their ideas and solutions that may be applicable to ASEAN.
"What's interesting was that issues at the ASEAN level were discussed from different angles before the decision makers made their decision," he said.
Angelo said he had great experiences and gained new friends from the conference. In his opinion, the conference gave a positive influence to the younger generations of ASEAN.