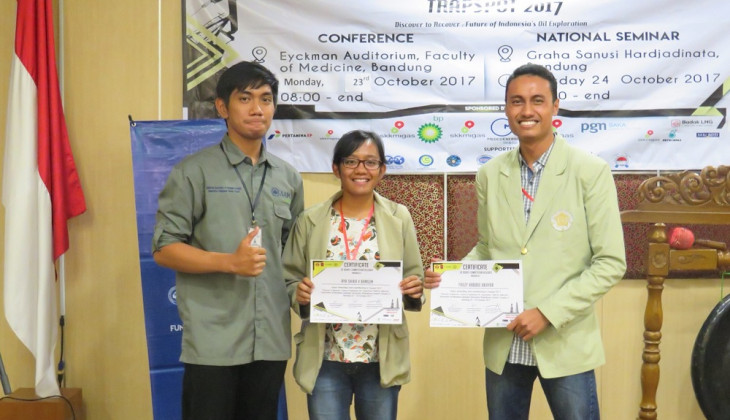 Geology Engineering students of UGM have become first and third winners in the Trapspot English Energy Debate Competition 2017 that run on 22 October 2017 at Universitas Padjajaran, Bandung, West Java, after beating tens of other teams from Indonesian universities.
The UGM team that won the first place in the national energy debating competition has members Fauzy Habibie Akhyar and Aya Shika V. Bangun. While the third winner team has members Handika Lazuardi and Jesslyn Jane. In addition, best speaker title has also been earned by Aya Shika V. Bangun.
Both UGM team previously had to do a tight selection process. In the preliminary stage all participants had to send essays related to the concrete role of geoscience in resolving the country's energy problem.
"Best eight teams were selected to go to the finals in Bandung and two of them were from UGM," said Fauzy on Friday (27/10) at Faculty of Engineering UGM.
The competition held by American Association of Petroleum Geologist - Universitas Padjajaran Student Chapter uses the British Parliamentary System debate system. Each phase of the system consists of four groups, Opening Government (OG), Opening Opposition (OO), Closing Government (CG), and Closing Opposition (CO). "Each of the phases is to debate motions on Indonesia's energy problem, one of those is privatisation of state oil company Pertamina," he said.
Fauzy said in the final they had the role as Closing Goverment. The UGM B team (Handika Lazuardi and Jesslyn Jane) acted as Closing Opposition, the UPN A team as Opening Goverment and Trisakti team as Opening Opposition, debating the motion As Indonesian Government, This House Would Ban Fossil Fuel Cars.
"We're excited and proud that the UGM team has won the championship in this competition. We hope this achivement would sustain next year," he said.