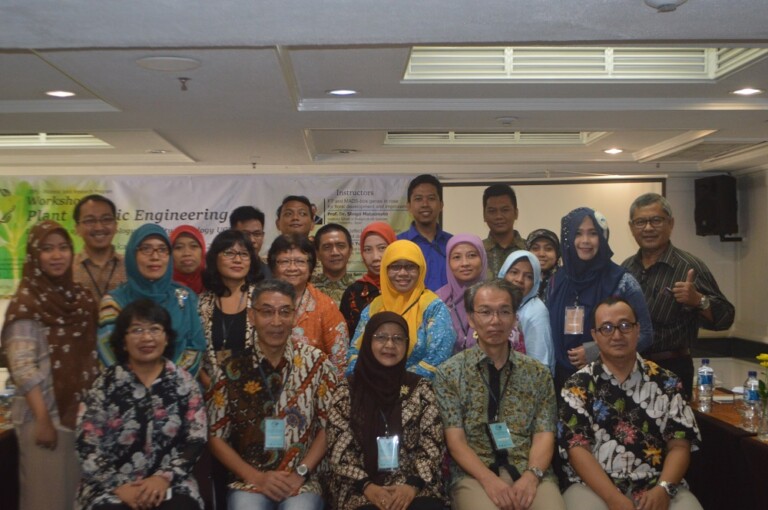 Faculty of Biology UGM held Plant Genetic Engineering workshop as an effort to disseminate the result of research, particularly genetic engineering for plant breeding.
During the workshop, Dr. Endang Semiarti, M.Sc., a researcher from Faculty of Biology UGM, presented her research which obtained funding from Japan Society for Promoting Science-Bilateral Joint Research Program (JSPS-BJRP Ministry of Research, Technology, and Higher Education) 2017. The research is conducted by collaborating with Prof. Shogo Matsumoto and Dr. Yasushi Yoshioka, researchers from Nagoya University Japan.
The research is regarding Consolidation of New Methods for Orchid Plant Breeding by Genome Editing System using CRISPR/Cas 9. The system is a new, effective technique to produce plants which have new beneficial characteristics, including quick bloom, resistance to disease, and so forth.
The workshop was held from November 6 – 7, 2017 at Santika Hotel Yogyakarta. It was attended by as many as 20 participants who came from academic community and industry, including Malang State University, Ahmad Dahlan University, North Sumatera University, Setia Budi University, Yogyakarta State University, Malik Ibrahim Islamic State University, UGM, PT. Genetika Science, and Sepuluh November Institute of Technology.
"This workshop is a part of JSPS-BJRP program for enhancing the capacity and skills of Indonesian and Japanese human resources particularly, regarding plant genetic engineering," said Committee Chairperson, Dr. Endang Semiarti, M.Sc.
This event presented keynote speakers from Nagoya University, they were Dr. Yasushi Yoshioka who delivered a presentation entitled A Serve Defect in Plastid Division Affects Plant Development and Prof. Shogo Matsumoto who presented FT and MADS-box Genes in Rose for Floral Development and Improvement. On the other hand, Dr. Endang Semiarti delivered a presentation entitled Agrobacterium-mediated Genetic Transformation in Indonesian Orchid Plants.
Aside from gaining knowledge regarding genetic engineering techniques, the participants will directly practice in biotechnology laboratory at Faculty of Biology UGM. One of the techniques that will be trained is DNA isolation from plasmid and transgenic plants.