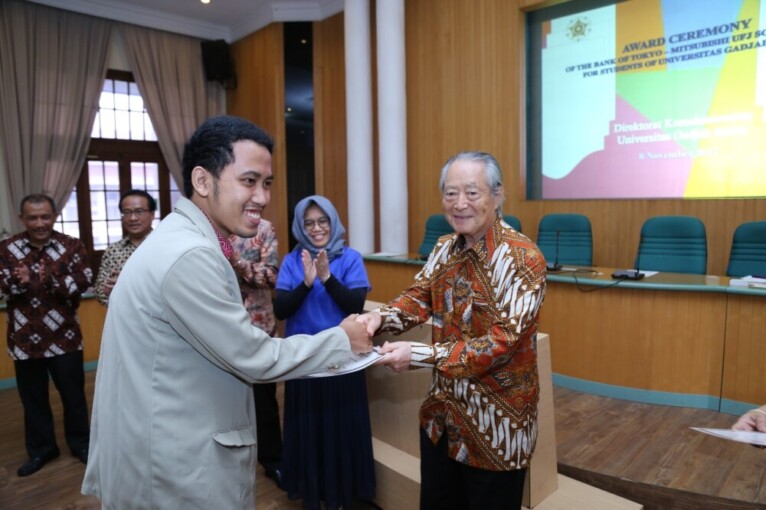 As many as 16 UGM students earn Bank of Tokyo-Mitsubishi UFJ Foundation Scholarship from Mitsubishi UFJ Foundation with the amount of IDR 59.2 million.
Those students come from three faculties which are Faculty of Economics and Business, Faculty of Law, as well as Faculty of Cultural Sciences. Each student receives 3.7 million rupiahs.
"We deliver our gratitude towards Mitsubishi UFJ Foundation that has been supporting us by providing a scholarship," said Vice Rector of Research and Community Service UGM, drg. Ika Dewi Ana, M.Kes., Ph.D. on Wednesday (8/11) at UGM main office.
During the handover of the scholarship, Ika gave positive response to the support from MUFJ Foundation and she hopes this scholarship can strengthen the relationship between UGM and MUFJ as well as between Indonesia and Japan.
"I hope the scholarship grantees can become the ambassadors of cooperation and fellowship between Indonesia and Japan, and we can strengthen our cooperation in encouraging economic development in Indonesia in the future," she added.
Appreciation is also delivered by the Director of Student Affairs UGM, Dr. R. Suharyadi, M.Sc. He said more than 26% of UGM students come from underprivileged families. Therefore, this scholarship will be very beneficial for UGM students, particularly those who come from underprivileged families.
"This kind of scholarship is essential for us because UGM students need support not only from the university but also other parties," said Suharyadi.
In addition, Suharyadi hopes the cooperation can be implemented in the form of student exchange where it can give an opportunity to UGM students not only to study Japanese language but also Japanese daily life.
In the same occasion, Chairman of MUFJ, Shigemitsu Miki said UGM is one of the oldest partners of their foundation. Since 1984, his party has started to provide a scholarship for UGM students.
"Our foundation provides a scholarship for more than 600 students in 13 countries, and one of them is UGM where our cooperation has been started since 1984," said Shigemitsu Miki.
This scholarship is also provided as one of the support from the foundation towards the development in Indonesia. Therefore, Shigemitsu hopes the scholarship grantees can contribute to the Indonesian society.
"We believe you have the capability which is required by Indonesia to develop. I hope all of you are able to contribute for those around you with affection to develop together," said Shigemitsu.
Shigemitsu said this scholarship will continue for UGM students in the following years. He also gives an opportunity to build cooperation with UGM in other sectors.
"We will continue to provide scholarship and we believe it can give more contribution to the development of this nation," he added.