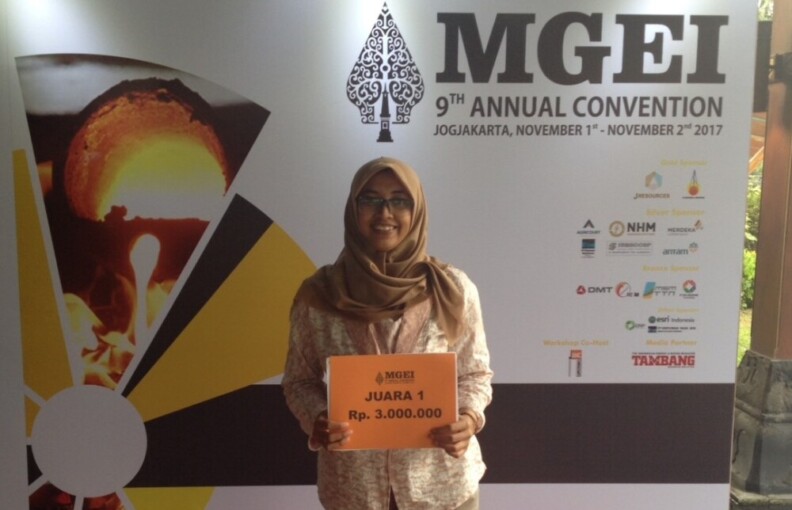 A student team from Department of Geology, Faculty of Engineering UGM succeeded to be the first winner of Student Research Poster Contest in the 9th MGEI Geometallurgy Annual Convention 2017 which was held in Yogyakarta from October 30 until November 2, 2017.
They are Ahmad Faizal Amin, Eka Dhamayanti, Aldo Febriansyah Putra, Dwi Charisah Andriyani, and Pranayoga Pramumijoyo.
In the competition which was held by Indonesian Economic Geology Society (MGEI), UGM team succeeded to be the winner by proposing research entitled Structural Style and It Control to Mineralization in Sangon Area, West Progo Mountains, Special District of Yogyakarta.
"We conducted research regarding developing geological structure that controls the mineralization of gold ore which is found in Sangon area, Kalirejo Village, Kokap Sub-District, Kulonprogo Regency," said Ahmad Faizal on Thursday (9/11) at UGM campus.
Ahmad Faizal said he never expected to be the winner of this competition. Moreover, they bring a simple research topic.
"We are quite surprised when being chosen as the first winner considering our simple research topic. We are very grateful and proud to become the winner of this prestigious competition," he added.
UGM Team succeeded to be the first winner and won over the team from Bandung Institute of Technology in the second position and Sriwijaya University in the third position. This competition is one of the series of events in the 9th MGEI Geometallurgy Annual Convention 2017 which was attended by dozens of teams from various universities in Indonesia.