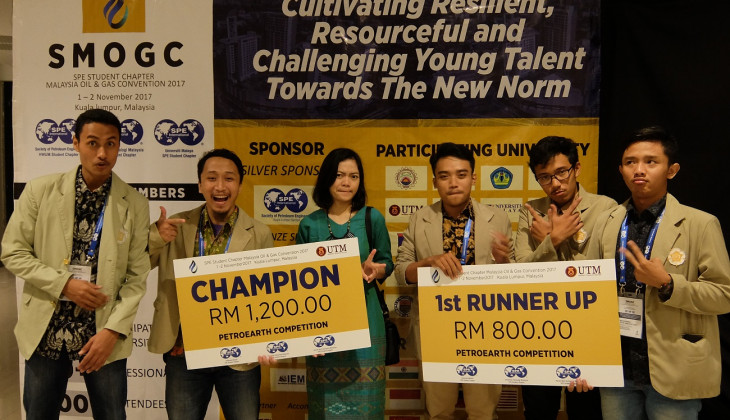 An engineering students' team from UGM have made an international achievement by winning the International Geoscience competition at the PetroEarth Competition, Society of Petroleum Engineers Malaysia Oil and Gas Conference (SMOGC) that was held in Kuala Lumpur, Malaysia, from November 1 until 2. Despatching two teams, GamaCheetah A and GamaCheetah B, UGM became the winner and runner-up in the competition amongst the Society of Petroleum Engineers (SPE) students, which was also joined by teams from Malaysia, India, China, the Philippines, Thailand, and Germany.
There were a number of categories in the competition: Paper, poster, oil rig design, oil mid design, petrobrain, and petroearth. The UGM team participated in the petroearth category, which tested their ideas and analysis of geology, geophysics, and petroleum's geology.
The GamaCheetah A team comprising of Fauzy Habibie Akhyar (Geology Engineering 2014), Ahmad Faizal Amin (Geology Engineering 2013), and Santika Satya (Geophysics Engineering 2013), earned the highest scores in the final. They were followed by GamaCheetah B, with Ichsan Ramadhan (Geology Engineering 2015), M Fikri Amanulloh (Geology Engineering 2015), and Irfan Ansori Fadhil (Geology Engineering 2015) as its members, and the other finalists were from Heriot-Watt University Malaysia.
Fauzy Habibie Akhyar expressed his pride following their success because this was the first time they joined the prestigious event.
"We were excited that in our first year of participation in the International Geoscience competition in Malaysia, we won the championship," he said in a press release sent out on Thursday (Nov 9).
According to the chairman of theSociety of Petroleum Engineers UGM, this international success was expected to spark the interest of other UGM students to join in international competitions. "We hope the success can spark the spirit of other UGM students to be more confident and make UGM and Indonesia proud at international events," Fauzy said.
Meanwhile, Irfan Ansori Fadhil from the GamaCheetah B team said he had not expected to be able to go through to the final and eventually become the runner-up. "We were nervous, moreover to challenge other teams whose command of English was better. Eventually, we were able to secure the highest two positions," he said.