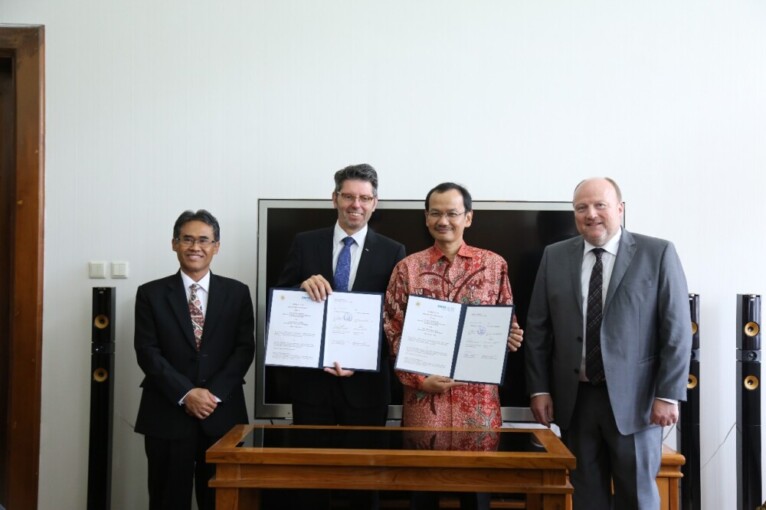 The Dean of the Faculty of Engineering UGM, Prof. Ir. Nizam, M.Sc., Ph.D., and the Dean of the Faculty of Georesources and Materials Engineering of RWTH Aachen University have signed amendments to a Memorandum of Understanding (MoU) that regulates the duration of cooperation between the two faculties from 2018 to 2025.
The Rectorate Senator of RTWH Aachen University, Prof. Peter Kukla, who witnessed the signing said the cooperation was the extension of relations between Germany and Indonesia, including with UGM, that have lasted for a long time.
"We are talking about the steps to the future that will enhance the partnership between Indonesia and Germany," he said on Tuesday (Nov 14).
Both parties will cooperate in the mutual research and development of science and other projects, including the construction of a lab at the Faculty of Engineering UGM. According to Peter, apart from enhancing the relations between both institutions and countries, the common projects can increase the internationalization of research and science.
The Rector of UGM, Prof. Ir. Panut Mulyono, M.Eng., D.Eng., expressed his pride following the opportunity for UGM to form a collaboration with a world class university. This partnership will bring benefits to the academic community, including improvements to UGM's reputation at the world level.
"Collaborations with international partners are one of our targets to increase the reputation of UGM," said Panut.
Panut said apart from research, the collaboration may cover student exchanges, for example engaging the students from Aachen in UGM,s student community service projects.
"Upon the signing of the MoU, we can make a number of forms of collaboration. I hope in the future we can do many projects to increase our quality as well as that of Aachen University," he said.