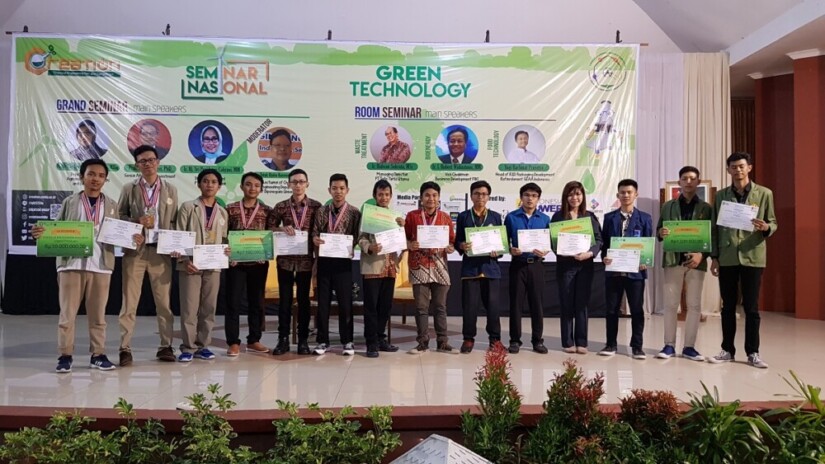 The achievements earned by students from Department of Chemical Engineering UGM in Chemical Engineering Research Competition (CERCo) 2017 have to be highly appreciated. UGM dispatched three teams to the international competition. CERCo is a part of Chemical Engineering Fair and Competition (Creation) 2017. UGM teams succeeded to earn all awards in the competition which was held by Diponegoro University. The peak of the event was held from November 3 – 4, 2017 at Regional Agency for Human Resource Development, Central Java Province.
This year, the Creation event raised Green Technology as its theme. It was attended by as many as 66 teams from various universities in the world. Three awards earned by UGM are the first winner for the team that consists of Ardian Fauzi, Alfapetra Meisky Astawan, and Sangga Hadi Pratama with their scientific work entitled Biodiesel Production using Hydrothermal Liquefaction Process from Microalgae. Meanwhile, the runner-up position is achieved by the team that consists of Ivone Marselina Nugraha, Asdi Restana, and Addo Hernando with their scientific work entitled Palm Fiber Adsorbent for Batik Dye Wastewater. The third winner is earned by the team that consists of Stefanus Wiharsanto, M. Hafish Mahdi, and Brilian Ryan Sadewo with their scientific work entitled Sustainable Approach in Valuable Metals Recovery from Lithium Ion Batteries using Acetic Acid as a Leaching Agent.
Sangga, one of the members of UGM team, said it is a great achievement. "It is quite rare where UGM can successively become the first, second, and third winners at a time in an international competition," said Sangga on Tuesday (14/11).
UGM succeeded to maintain the winner position in CERCo because UGM also earned the first and second winners in the previous year.