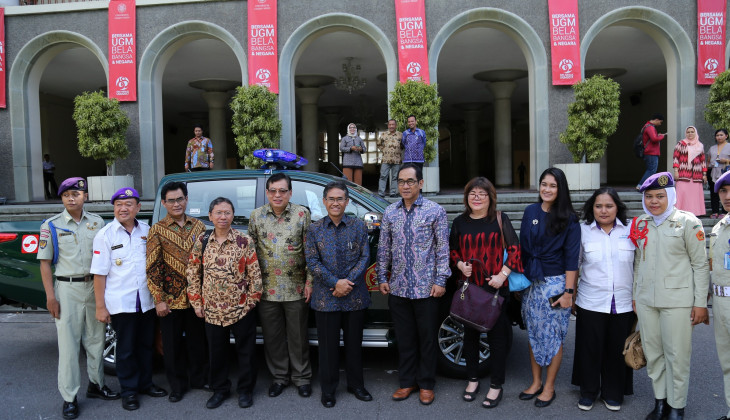 Student Regiment Unit of Universitas Gadjah Mada obtained an operational car for their social activities from Sinar Mas company. The handover of the car was marked by a handover signing event between Ir. Gandi Sulistiyanto S., Managing Director of Sinar Mas as well as the director of PT. Indah Kiat Pulp & Paper Tbk., and Prof. Dr. Ir. Bambang Agus Kironoto, Vice Rector of Human Resources and Assets UGM at UGM main office on Monday (4/11).
UGM Rector, Prof. Ir. Panut Mulyono, M.Eng., D.Eng., who also attended the event said this operational car will be utilized for supporting disaster mitigation and social activities. Through this aid, the Student Regiment Unit UGM is expected to pay more attention and give support in handling disaster and other social problems.
Panut acknowledged the Student Regiment Unit's support in other events, including supporting the floods and landslides countermeasures which recently happened in Yogyakarta.
UGM, according to the Rector, would not be able to produce qualified human resources without the support from others. Therefore, in order to produce such qualified human resources, UGM needs this kind of support.
Gandi Sulistiyanto said the idea of providing operational car for the Student Regiment Unit UGM came from alumni of the unit. At that time, the Student Regiment Unit UGM required a transportation which was able to support their social activities.
"This car comes at the right time, thus when a disaster happens, the car is ready. I am also glad the Student Regiment UGM can obtain an operational car that is compatible for all terrains," said Gandi.
Gandi said this double-cabin-car is equipped with various communication tools, thus it can help the Student Regiment Unit UGM in performing disaster countermeasures. According to Gandi, this support and cooperation is not the first and the last cooperation done by Sinar Mas because Sinar Mas has the corporate philosophy that it is developing together with the nation. Therefore, this kind of support will continue to be provided, particularly on educational sector.
"Because UGM is a trusted university as well as a guarantee for the young generation to play an important role for the nation," said Gandi.