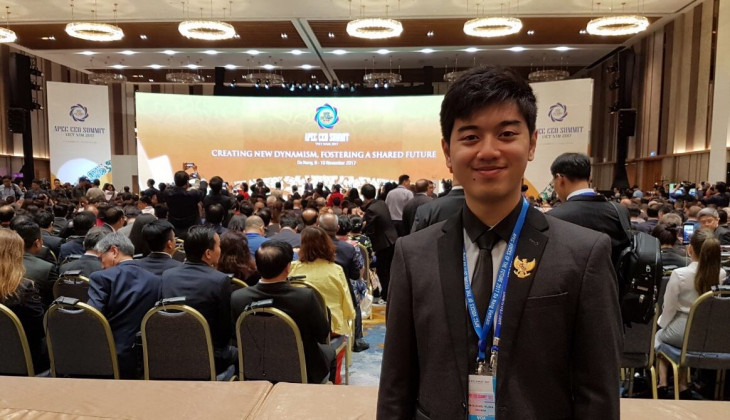 Angelo Abil Wijaya, International Relations student from UGM, participated in the Asia Pacific Economic Cooperation (APEC) Summit from 6 - 11 November in Vietnam. Angelo was representing the Indonesian young generation in the APEC Voices of the Future, a forum for the young generation from 21 member countries of APEC.
There were four big themes in the APEC this time, Youth's contribution to the APEC Vision toward 2020 and beyond; Economic, Financial and Social Inclusion; Human Resource Development in the Digital Age; Start-ups, Innovation and MSMEs support policy.
During the event, Angelo delivered a speech to the forum. He expressed optimism among Indonesian young generation on the economic future of Asia Pacific region. "In the event I expressed the optimism that had to be built on the basis of cooperation between 21 APEC member states," Angelo said on Tuesday (5/12).
Angelo was one of the three students that represent Indonesia in the conference. The other students were Kristi Ardiana and Luther Lie, students from the University of Indonesia. Furthermore, Angelo expressed excitement for joining the conference as he had learned much and made new friends during the event. "I was excited to be able to join and represent Indonesian young generation in the APEC youth forum alongside the APEC Summit," he said.
APEC was established in 1989 as Asia Pacific economic platform. This year, APEC Summit was attended by dozens of economic leaders, ministers, senior figures, and thousands of business players from the 21 APEC member states to participate in the Summit in Vietnam.