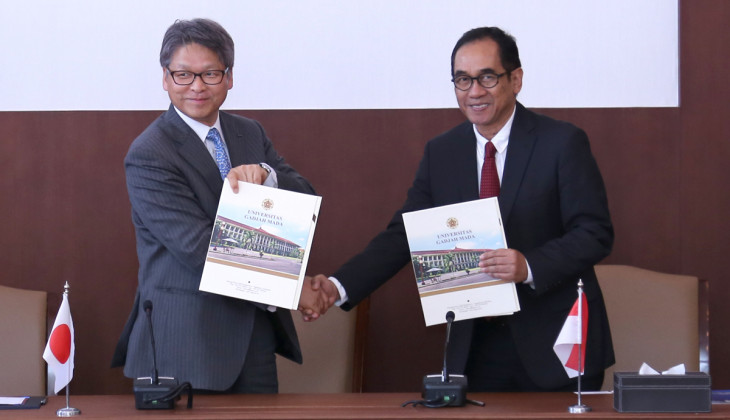 Universitas Gadjah Mada and NTT Data Corporation agree to build cooperation in education, research, and communication sectors for the development of human resource in information technology sector. This cooperation was signed by UGM Vice Rector of Cooperation and Alumni, Dr. Paripurna Sugarda, and Director of NTT Data Corporation, Shigeki Yamaguchi, on Friday (8/12) at UGM main office.
Paripurna gave a positive response towards the cooperation with NTT Data Corporation that previously had built cooperation with Aino System Integration as the subsidiary of PT Gamatechno Indonesia, one of the business units owned by UGM in information technology sector. "The achievement of AINO which currently has become a national scale corporation cannot be separated from the support provided by NTT Data Corporation," said Paripurna.
Paripurna further said currently UGM was encouraging the establishment of a corporation in the digital technology sector. This corporation will open a broader job opportunity in the future. "We hope this corporation can be developed not only at national level but also international level," he added.
Meanwhile, Shigeki Yamaguchi said NTT Data is an international corporation in Japan in information technology sector. The cooperation with AINO, according to Shigeki Yamaguchi, is one of the efforts to expand its business in research sector "We hope this cooperation can give a contribution to the development of technology innovation," said Shigeki Yamaguchi.