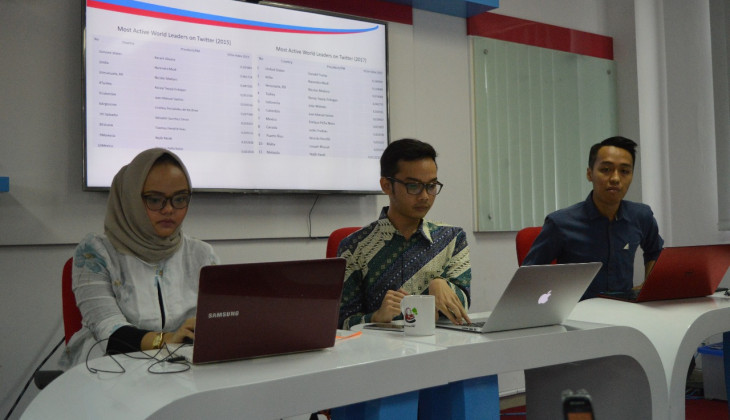 According to Virtual Social Media Index released by Center for Digital Society (CfDS) of Faculty of Social and Political Sciences UGM, Indonesia's rank has leveled up from 12 in year 2015 to 6 in 2017.
Improvement is also seen in Virtual Connectedness Index that ranks Indonesia at 9 or a jump by 12 from two preceding years. "Seeing the potential and progress in technology currently, Indonesia can use the momentum to better enhance utilisation capacities of its digital communication facilities," said Viyasa Rahyaputra, CfDS researcher, on Wednesday (13/12) at Facutly of Social Political Sciences UGM.
Virtual Connectivity Index represents virtual communication intensity of world countries that is measured by 3 main indicators, namely virtual popularity, social media intensity, and website intensity. The popularity of state institutions and state leaders is measured by the number of search in Google and YouTube as well as number of words quoted in Wikipedia, while website intensity is seen from the activity or not of government websites and number of visitors every day.
For intensity indicator on social media, the data used are from Facebook and Twitter of state leaders. Aspects that can affect the popularity is posting intensity, interaction intensity with users, use of English to withdraw international audience, and number of social media followers.
"Of the 203 countries that we quote, generally Indonesia has a good performance, ranking in the Big 10. This mean generally, Indonesia and President Joko Widodo has a specifically good attendance among global community," said Viyasa.
He added besides Indonesia, the Big 10 include the US and European countries such as the UK and France, and Latin American countries such as Mexico and Venezuela.
Overall, there were increased uses of virtual communication facilities by governments in almost all countries. Since the start of similar research in 2015, the countries being researched have showed significant changes, whether an increase or decrease.
"There are countries having institution and leader popularity increase sharply, such as Canada and the Philippines, while some others have shown a not so good performance, hence a decrease," he said.
Overall, the index showed interesting findings that may give certain indications, for instance, the fact that developed and democratic countries are those that score high in the presented indexes. Therefore, the index produced by the CfDS can be a start to further research in various areas in terms of virtual connectivity in the digital era.