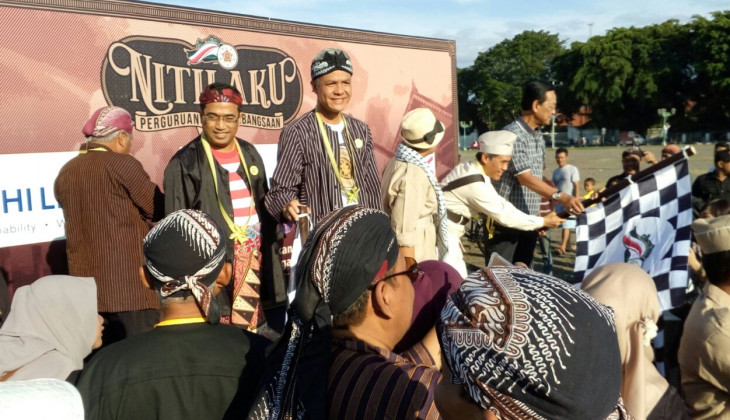 Thousands of people have joined the Nitilaku parade, which is a walk from Pagelaran Keraton Yogyakarta to the campus of UGM in Bulaksumur on Sunday (17/12). The event is to mark the history of the establishment of UGM and remember the contributions from Keraton (Palace) that permitted the university to use the Palace to running courses in the early times of UGM.
At least 7,000 people gathered in the North Squares of the Keraton. They were students, lecturers, alumni, staff, student associations from around Indonesia currently studying in Yogyakarta. Three government ministers who are alumni of UGM, Transport Minister Budi Karya Sumadi, Foreign Affairs Minister, Retno L.P. Marsudi, Public Works and Public Settlement Minister, Basuki Hadimulyono, and Central Java Governor as well as Chairman of UGM Alumni Association (PP Kagama), Ganjar Pranowo.
Participants of Nitilaku were wearing outfits of the old time during the fight for independence or customary costumes. They were released by Governor of the Province of Yogyakarta Special Region, Sri Sultan Hamengku Buwono X, at the squares, witnessed by the Ministers, the Central Java Governor and the Rector.
Sri Sultan Hamengku Buwono X in his remarks said Nitilaku event was organised to remember the early establishment of UGM as well as to remind the alumni not to forget the role of the university in educating them. "This event is really important because we are educated so that we are up to the point we are now in," he said.
Sri Sultan also reminded the alumni to play their roles, giving contributions to the country. "We can do something not just for the country, but also UGM," he said.
Rector of UGM said the Nitilaku event was organised annually to celebrate the UGM anniversary. "Each year we organise Nitilaku event to remember the contributions from the late Sri Sultan HB IX that lent the Pagelaran venue as the campus. With such limitations, UGM was still able to generate great national leaders," he said.
Ganjar Pranowo said there was a long history that could not be forgotten by many people about the role of the Palace in supporting the founding of UGM campus. "There was an extraordinary fighting spirit coming from the Sitihinggil Pagelaran to Bulaksumur UGM," he emphasised.