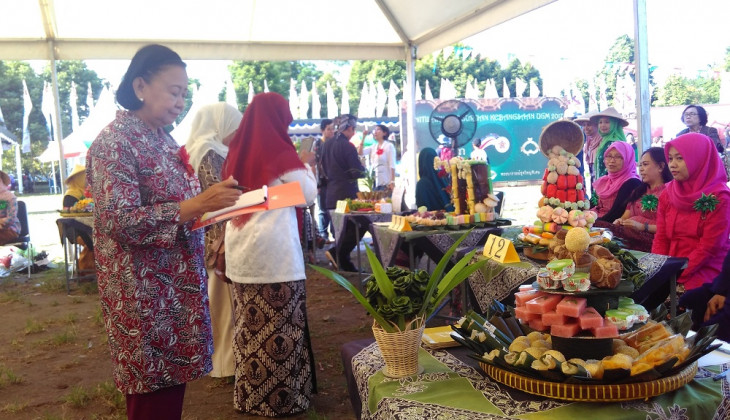 In order to celebrate the 68th anniversary of Universitas Gadjah Mada (UGM), Women Association of UGM held traditional snacks decoration competition at Pancasila Field UGM on Sunday (17/12) as an event to promote Indonesian traditional snacks.
Various unique creations were presented by the participants. They tried to create the traditional snacks in various forms, including mountain, gate, cars, and so forth, with Defending the Nation as its theme.
"We make a mountain form using various colorful traditional cakes which illustrate Indonesian diversity which consists of various tribes, cultures, religions, and so forth," said one of the participants from Faculty of Medicine UGM.
The Chairman of the Committee, Yuke Paripurna, said this competition was one of the events held to celebrate the UGM anniversary. In addition, it aimed to promote Indonesian traditional snacks, thus these can be more known by the community.
"Currently, there are not many of the young generation who know Indonesian traditional cakes whilst we actually have various kinds of them. Through this event, we tried to introduce Indonesian traditional snacks towards the young generation," said Yuke.
The event was joined by as many as 21 teams from UGM units. The scoring criteria were based on creativity aspect, utilization of environmentally friendly materials, appearance, nutrient value, as well as the conformity with the theme.