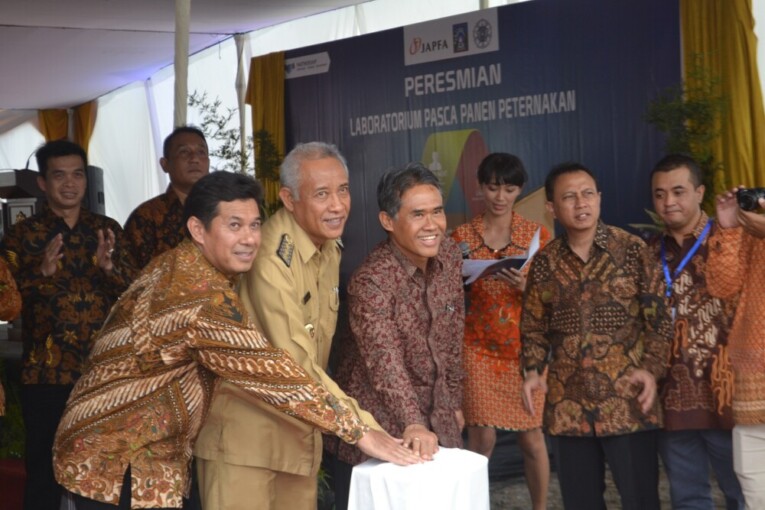 UGM Rector, Prof. Ir. Panut Mulyono, M.Eng., D.Eng., installed a poultry post-harvest laboratory in Agro Science Techno Park UGM in Madurejo area, Sleman regency, on Monday (18/12). This installation was marked by the signing of inscription and the opening of office name plate by UGM Rector and the Regent of Sleman Regency, Sri Purnomo, as well as the Director of PT. Ciomas Adisatwa, Widihartomo Tri Kuncoro.
This laboratory has an area of 14,527 metres square. It is functioned as a chicken slaughterhouse with a production capacity of 28 thousand chicken per day and cold storage capacity of 200 ton. This laboratory establishment costs 35 billion rupiahs. Its production and marketing are managed by Ciomas Adisatwa while UGM academic community obtains an opportunity to join the internship and research program in the laboratory.
UGM Rector, Prof. Panut Mulyono said this laboratory is established through the cooperation among UGM, the regional government, and PT. Ciomas Adisatwa. Therefore, its operation can encourage the academic and research activities for the students from Faculty of Veterinary Sciences and Faculty of Animal Sciences. "We hope this laboratory can encourage the academic activity which is related to the industrial sector," said Panut.
This laboratory will be utilized by UGM researchers to implement their research products and the students will obtain an opportunity to directly see the post-harvest processing at the industrial level. Meanwhile for the chicken farmers, according to Rector, they can become UGM's partner and sell their chicken to this laboratory. "We hope there will be many chicken farmers in the community where the slaughter and the chicken product processing can be integrated in this laboratory," he added.
The development of the industry-based-laboratory is in line with the role of the university as the agent of innovation, thus it can increase the community's economic condition. "Currently, the government is asking the university to be the agent of innovation which can contribute and increase the national economy," said Panut.
On the other hand, Widihartomo said the laboratory atUGM area is expected to enhance the students' skills, thus they can obtain many skills and experiences during their study.
The Regent of Sleman Regency, Sri Purnomo presented the result of this collaboration between the university and poultry post-harvest processing industry can increase the students' knowledge and reduce the disparity between university and industry. "This laboratory can be utilized to conduct research, thus it will reduce the disparity between the university and industry, as well as the students, hence able to gain experience to become an entrepreneur.
Afterwards,, UGM Rector and the Regent, as well as several UGM leaders obtained an opportunity to directly see the chicken processing. They also observed the cold storage which is used to keep the frozen product before being distributed to the market. Aside from having production room, this laboratory also has boarding house facility for the students, classroom, seminar room, cafeteria, praying room, and office.