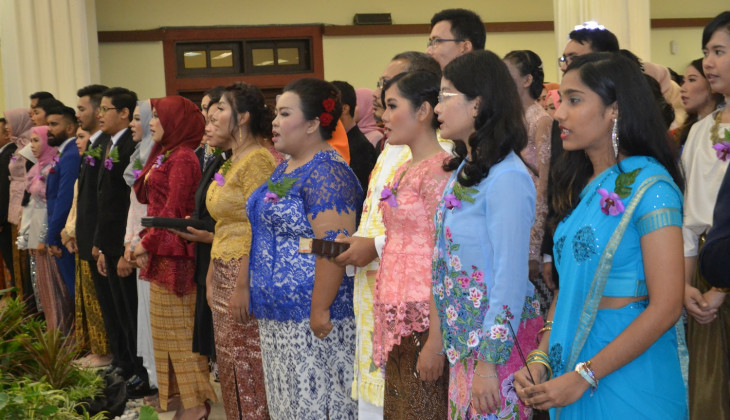 Faculty of Veterinary Medicine UGM has inaugurated 187 new veterinarians 14 of whom are Malaysian. Now the Faculty has inaugurated 5,107 vets across the country and abroad.
Average study time of the vets this time is 5.5 years. The youngest graduate is Puspita Dewi Fortuna that graduated at the age of 21 years and 3 months old. The highest GPA, 4.00, is earned by Yusfikriyya Rachima.
Dean of Faculty of Veterinary Medicine UGM, Prof. Dr. Drh. Siti Isrina Oktavia Salasia, said the role of veterinarian was important to provide safe, healthy, and halal food from cattle. They are also responsible for mitigation of zoonotic and non-zoonotic diseases. "Veterinarians have to be vet police in the procurement of food from start to end," said Isrina.
Isrina further said vets need to also learn the danger of microbial resistance because excessive use of infectious disease therapy might increase resistance to anti-microbes. "Veterinarians have to take part in controlling the resistance of anti-microbes," she said.
Chairman of Indonesian Association of Veterinarians (PDHI), Dr. Drh. Heru Setijanto, said the newly inaugurated vets need to be able to maintain their profession and competence among society. "We hope veterinarians would understand and maintain competence and do more for society," he said.
He further asked the new vets to register themselves to PDHI branches in their location. "PDHI has 52 branches across Indonesia," he said.
Head of Agriculture Quarantine of Tanjung Priok, Drh. Raden Nurcahyo Nugroho, congratulated the new vets from UGM, asking them not just to become officials at government offices but also entrepreneurs. "Anywhere you work is not a problem, we know that President Joko Widodo has asked universities to build the spirit of entrepreneur. I hope one day there will be a vet that became exporters of veterinary products, not just importers," he said.