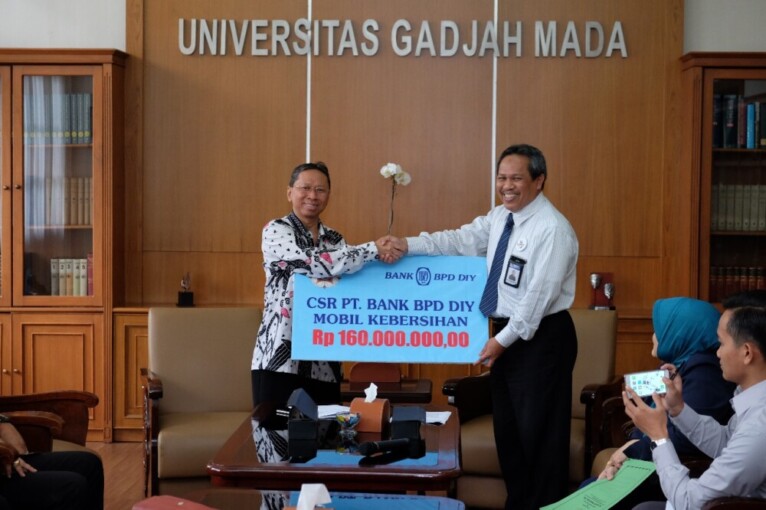 One of UGM partners, BPD Bank of Yogyakarta branch, handed over a car for cleaning purposes worth Rp160 million to support UGM facility maintenance.
The Mitsubishi L300 vehicle will be utilised at UGM Residence that manages UGM boarding houses and Wisdom Park UGM.
"We appreciate the BPD Yogyakarta that has allocated some of its CSR funds for UGM," said Vice-Rector for Human Resource and Assets, Prof.Dr.Ir. Bambang Agus Kironoto, on Thursday (28/12) at UGM Main Office.
Bambang said the car would support maintenance of UGM facilities. He hoped the car would be used well by the UGM Residence while campus cleanliness gets better.
"I hope UGM Residence can really make use of the car so that it can perform for a long time," said Bambang.
Head of the BPD Yogyakarta, Agus Rahmadi, appreciated the good cooperation with UGM. The car aid is one of supports from BPD for UGM that has become an important partner of the Bank.
"Financial cooperation between BPD Yogyakarta and UGM has run well since 2008 until today. We really appreciate this cooperation," he said.
He added another cooperation that was being developed by both parties is cash management system to be operational by next year.
"Hopefully in the near time the cooperation with UGM can be implemented for cash management system," added Agus.
He hoped in the future the Bank and UGM would get strengthened and give benefits for both parties and the society.
"I hope this CSR form can benefit UGM, and hopefully our cooperation would get better," he said.