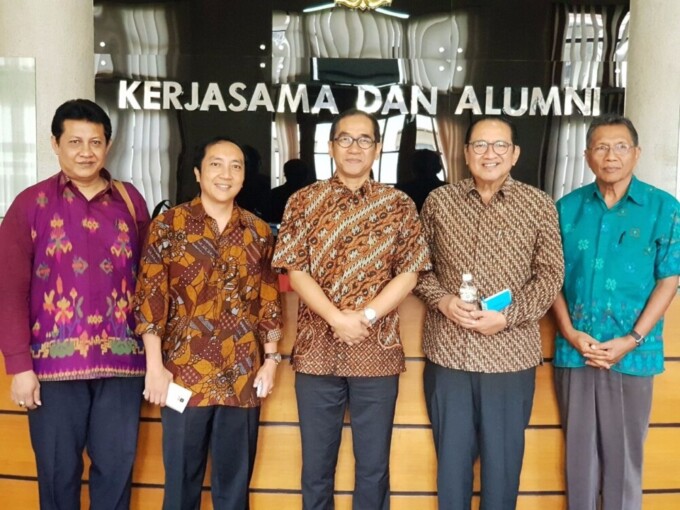 Universitas Gadjah Mada (UGM) and Gianyar regency in Bali have agreed to continue their cooperation in research. The cooperation now focuses on socio-cultural behaviours of Gianyar society due to globalisation and commercialisation of tourism.
This issue emerged during the visit made by Regent of Gianyar, Anak Agung Gde Barata, and entourage to UGM on Friday (5/1). The delegation was received by UGM Vice-Rector for Cooperation and Alumni, Dr. Paripurna, S.H., M.Hum., LL.M., accompanied by Head of Home Cooperation sub-directorate, Dra. Sri Widati, and Secretary of Business Development and Incubation, Sang Kompiang Wirawan, S.T., M.T., Ph.D.
The cooperation between UGM and Gianyar has run since 2015 including in reforestation and water conservation along the coastlines of Gianyar. Both parties are planning to enhance the cooperation into the socio-cultural behaviours of the society of Gianyar due to the impacts of globalisation and commercialisation of tourism.
"I hope this cooperation would run well and benefit Gianyar regency and UGM as well," Anak Agung Gde Barata said.
Paripurna said UGM had the commitment to preserve sustainability of the Balinese society. In the near future, a team of experts from UGM wil be dispatched to collaborate with the Bali regional government for implementation of research projects.
"Research will start in February and we will prepare a comperehensive team from many disciplines, such as customary laws, anthropology, archaeology, sociology, psychology, history, and so on," he said.