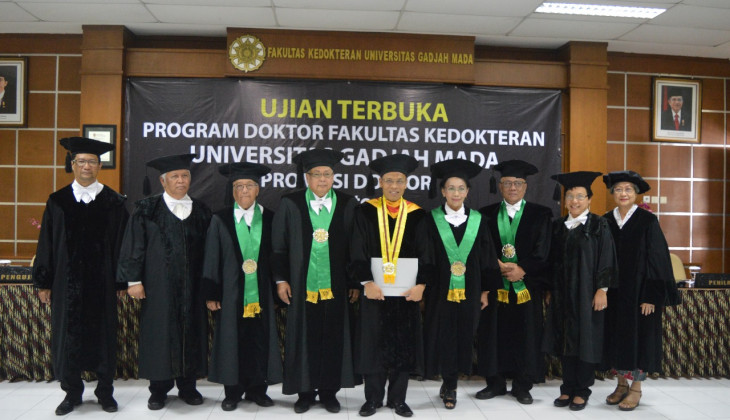 Sleman and Gunungkidul regency have implemented rational drug use that has sustained for over twenty years. According to doctoral student of Faculty of Medicine UGM, Sunartono, internalisation became the key for the success of such programme implementation.
"The key for success of the rational drug use process is the internalisation process which is systematic and consistent through a Javanese expression. These are being forced, getting forced, getting used, and internalised," he said in his doctoral examination on Monday (15/1).
Issues in irrational drug use include polypharmacy, drug use not in accordance with indication, use of expensive drug, incorrect use of antibiotics, underdose or incorrect duration.
Irrational drug use, he said, was a very complex global problem in developed and developing countries that have massive impacts whilst disadvantaging the society in terms of clinical, psychological, and economic aspects. So, the success of the programme implementation in Sleman and Gunungkidul regencies became a case important to research into.
"Cases in both regencies happened very rarely so these are important to explore to know the influential factors on the implementation of rational drug use programme, thus it can be followed by others," said Sunartono.
Intervention of rational drug use started in Sleman after the area had been selected by the WHO in collaboration with UGM back in 1990 for the test project of rational drug use. In Gunungkidul, a qualitative study was done by Hadiyono et al., using inter-actional group discussion (IGD) in year 1992 and by Sunartono and Darminto who used self monitoring method.
In 2014, polypharmacy in Sleman ranged around 2.75 – 3, the percentage of patients being injected from 4.96% in 1988 to 0,18% in 2014, and percentage of patient being given antibiotics from 49.5% to 13.23%. In Gunungkidul polypharmacy decreased from 3.82 to 3.13, percentage of patient in community health centres (Puskesmas) being injected from 76% to 0% and percentage of patient being given antibiotics from 63% to 24.1%.
Sunartono added the success of internalisation was not only determined by the method that was used because this process could only run if there was communication between all levels of players, between prescribers at the community health centres and management at the regency level health agency. So, the role of leaders is required to maintain good communication.
"Leaders or policy makers are very needed in the programme internalisation of rational drug use so that the policy being implemented can be a routine organisational project," he said.
He recommended the internalisation of rational drug use needs to be done since educational process phase to service unit. Rational drug use programme, said Sunartono, ought to be a variable in accreditation education system of health service unit.
"It needs acceleration and scope of rational drug use programme along with capacity enhancement of health agency in regency/municipality through sustainable training of trainers, human resource and funding support, drug information system, and sustainable monitoring and evaluation as well as incentives and disincentives," he said.