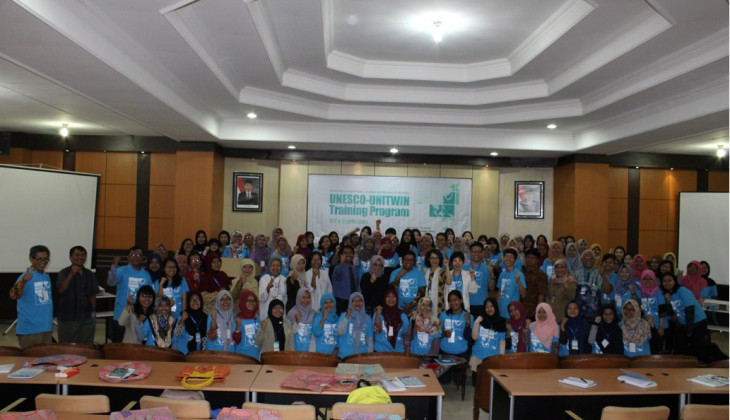 UGM Centre for Women's Studies and Sookmyung Women's University (SWU) South Korea have established cooperation which includes women's empowerment development.
Dr. Tri Winarni Soenarto Putri, Head of the Centre, said the cooperation started in 7 July 2017 where Sookmyung Women's University Korea formed an international network to promote women's empowerment through skills in information technology and communication to achieve Sustainable Development Goals (SDG's).
Tri Winarni said research was done in August 2017 on the command of information technology and leadership among UGM female students and lecturers. To follow it, a Women's Empowerment through ICT and Leadership training was done from 8 - 12 January 2018 at UGM to empower the students.
Tri Winarni added the training was joined by 80 students from various UGM faculties. UGM Vice-Rector for Research and Community Service, drg. Ika Dewi Ana, M.Kes., Ph. D., opened the training which was also attended by Dr. Abdul Kahar (Director for Literacy and Education Equality in the Education Ministry), Prof. Ir. Irfan Dwidya Prijambada, M.Eng.,Ph.D (Director of Community Service), and Prof. Dr. Mustofa, Apt., M.Kes (Director of Research).
Meanwhile, trainers came from Korea and Indonesia, including Dr. Myonghee KIM, Dr. Ae Jin KANG, Dr. Young-Kyu MOH, Dr. Seonhack HONG, and Mr. Hoyean HWANG, who were assisted by 2 staff and 10 assistants, while from Indonesia there were Prof. Dr Suratman, Prof. Dr. Maya Harmayani, Prof Dr. Kuntoro Priyambodo, and Nunuk Dwi Hastuti Setyawati.
"For the leadership training, the students made a field trip on 11 January 2018 to Panggang village in Klaten regency to learn the role of women in hydroponics development. The students learned how rural women organise themselves in the hydroponics development in their neighbourhood," said Tri Winarni.