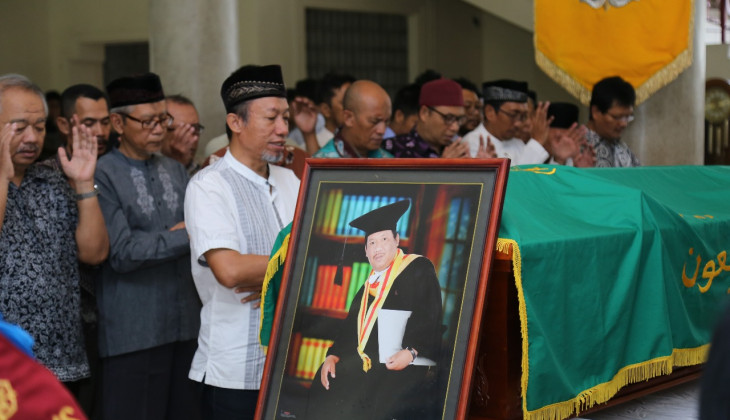 UGM lost one of its best lecturers after Professor of Faculty of Philosophy, Prof. Dr. Joko Siswanto, passed away on Thursday (18/1) at Panti Rapih Hospital Yogyakarta.
The last respect by UGM academic community was given towards the deceased on Friday (19/1) morning at Balairung UGM before the body was brought to Wonogiri to be laid to rest.
"Today academic community of Faculty of Philosophy lost one of our best men. During his life, the deceased had given many contributions to the development of the faculty, both in education, research, and community service," said Dean of Faculty of Philosophy, Dr. Arqom Kuswanjono.
During his life, the deceased was known as a figure who had given many contributions to UGM, particularly in playing his role as the Senate Leader of the faculty and an active member of UGM Academic Senate.
"On behalf of UGM, we offer our sincere condolences for the loss of our teacher, our best friend, our leader. We hope the family would gain fortitude to continue the leadership of the deceased," said Panut.
Panut said the contribution of the deceased not only gave impacts in organizational role but also academic sector. The late Prof. Joko Siswanto was known through his typical academic works and scientific impacts in philosophy and other sectors, including his inauguration speech as Professor in 2011 entitled Philosophers' Reflection on the Concept of Crime.
"This speech opens our awareness that crime does not rise by itself, but it is a relational reaction from various aspects in life," he added.
This work, according to Panut, seems to become a reminder for Philosophers to not stop exploring various phenomena in life. Panut hopes the spirit and persistence of the deceased can be an inspiration for others, particularly UGM academic community.
"The deceased had proven how much he would like to give contribution for our beloved UGM. I am sure his message and exemplary role will become legacy which is remembered by all of us," said Panut.