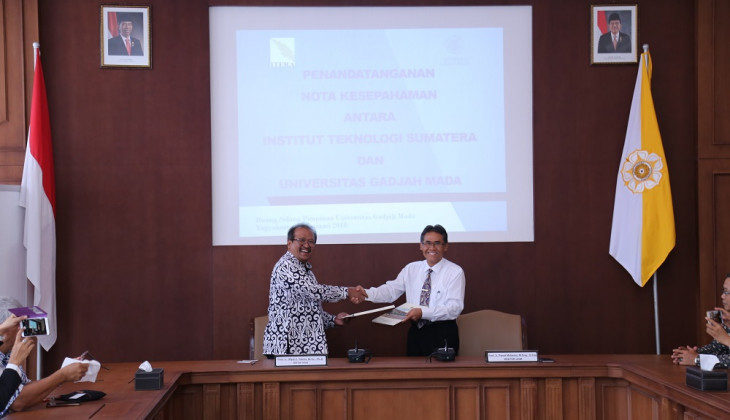 Universitas Gadjah Mada and Institut Teknologi Sumatera have agreed to establish cooperation in institutional development. The cooperation would comprise joint projects to deliver education, research, and community service, academic programme development, development of supporting work unit, and development of campus infrastructures.
An agreement of the cooperation was signed between Rector of UGM, Prof.Ir. Panut Mulyono, M.Eng., D.Eng, and Rector of ITERA, Prof.Ir. Ofyar Z. Tamin, M.Sc., Ph.D., on Friday (19/1) in the Conference Room UGM.
Rector of ITERA said ITERA as a young university that was established on 6 October 2014 needs to learn from other universities, including UGM, in building the university.
Through this cooperation, Ofyar hoped to be able to earn experiences in terms of learning system development, career development, research, and doctoral studies for lecturers.
"We also expect to have the support in joint research and technical guidance in laboratory development," he said,
Rector of UGM welcomed this cooperation. UGM has the commitment to develop education across Indonesia together to accelerate the country's advancement, one of those is by improving several Indonesian universities.
"UGM is always open for universities that need guidance. Hopefully, the cooperation can be useful," he said.