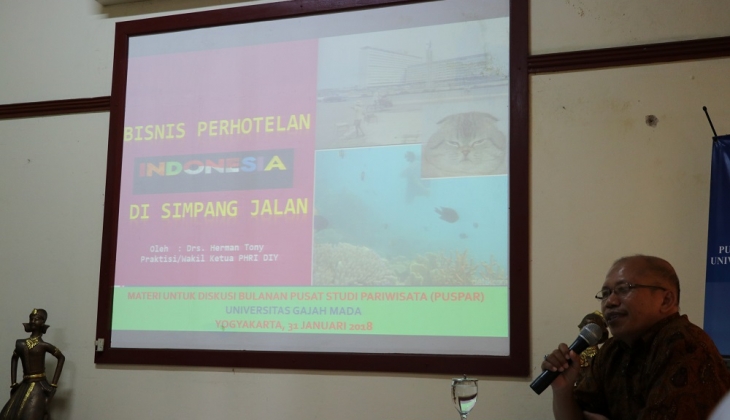 Hotel business currently faces an excess of room supply which is not followed by the growth of consumers' demand.
The issue was delivered by Vice Chief of Association of Hotel and Restaurant Indonesia, Drs. Herman Tony, during a discussion entitled Indonesian Hotel Business in Intersection which was held by Centre for Tourism UGM on Wednesday (31/1).
The excess of room supply, according to Herman, is caused by the great number of new hotel establishments. Those establishments are constructed in big cities where there are already many of them.
"This condition causes unhealthy competitiveness among hotels which leads to a war of tariff," said Herman.
Data of Association of Hotel and Restaurant Indonesia shows there are 2,300 star hotels in Indonesia with 290,000 rooms. Meanwhile, data from Statistic Agency shows there are 16,000 non-star hotels in Indonesia with 285,000 rooms. Therefore, the number of hotel rooms in Indonesia almost reaches 600,000 rooms.
According to Herman, a moratorium of the hotel establishment license has to be firmly implemented in order to maintain the sustainability of business in the hotel sector, including in Special Region of Yogyakarta. Although there has been a moratorium since 2014, however, new hotels continue to develop in Yogyakarta.
"Moratorium is only a temporary solution while the effective one can be done by increasing the number of tourists including those who stay in hotels," he added.
One of the efforts that can be done is holding Meeting Incentive Conference Exhibition (MICE) both at national and international levels. This event is expected to increase the number of Indonesian and international tourists.
Aside from room excess, Indonesian hotel business is also facing the lack of trained and certified human resources in the hotel sector. In addition, the advancement of information and communication technology also affects the business in this sector.
"There are many online travel agencies which reduce the profit of the hotel owner or operator because they ask for more commission than the traditional travel agency," said Herman.
The innovative disruption era, according to Herman, demands the businessmen in hotel sector to follow the development and market needs, including to change the mindset, to understand new job pattern, and the development of the business model.