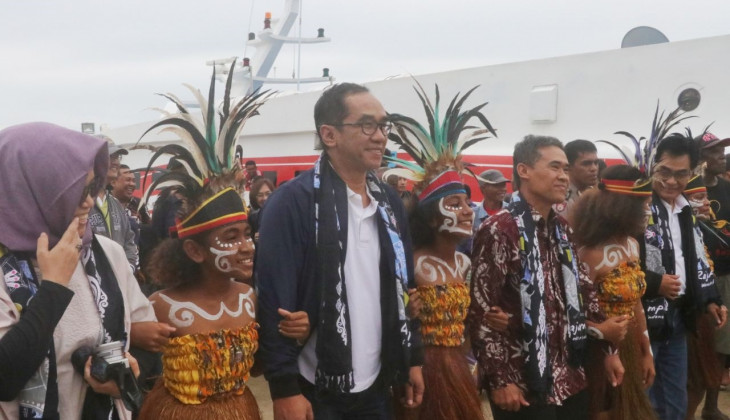 Universitas Gadjah Mada has supported human resource capacity enhancement in Raja Ampat's area of Waisai through UGM Student Community Service - Community Empowerment programme (KKN-PPM) 2017.
Since 23 December 2017 to 9 February 2018, as many as 24 UGM students conducted various types of programme that focused on human resource capacity enhancement in the Warmasen and Bonkawir villages.
"The main programme is human resource capacity enhancement," said coordinator of the students, Naufal Fakhri Erlangga, on Sunday (5/3) when receiving the visit by Rector of UGM and UGM leadership in Warmasen village.
Naufal said the low education quality was still the main problem. This was due to the limited facility and human resource capacity. In Waisai, the UGM students teach the local students from elementary schools up to the senior/vocational schools to help improve their capacity. There were also women's empowerment programme, training for making compost and VCO oil, mapping of local tourism, as well as mangrove tourism development.
Rector of UGM, Prof.Ir. Panut Mulyono, M.Eng., D.Eng., said the UGM Student Community Service programme allowed opportunities for the UGM students to learn and serve the society so that their empathy will rise related to underdeveloped regions.
He said the programme existence in Waisai also helped open the way for the Waisai people who have limited facilities and human resource.
Panut said UGM would also encourage the local government to re-formulate appropriate policy for each of the regions.
For two days from 3-4 February 2018, the Rector and entourage visited the location of the Student Community Service in Waisai and held a dialogue with them. The Rector also attended Raja Ampat Festival on Saturday (3/2) that was organised by the UGM students.
Secretary of Raja Ampat regency, Dr. Yusuf Salim, appreciated the UGM students for their efforts of the Student Community Service. This was expected to be able to change the mentality of the local people.
"We highly appreciate UGM as the presence of the UGM students have really helped the local government to change the behaviour of the local people," he said.
The Rector hoped the UGM students not only learn from society but also help develop the region so as to gain mutual benefits.
"I hope the programme that is run here can benefit not just the students but also the local people. We from UGM would also ask the local government of Raja Ampat to stay to be the location for UGM Student Community Service," he said.