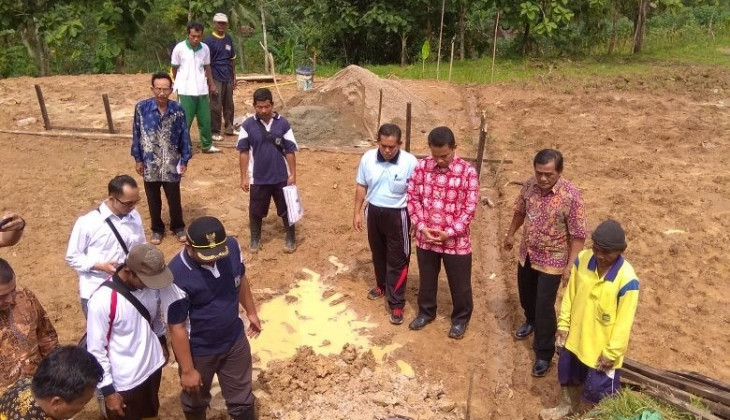 The Galanggo UGM team with UGM Alumni Association (Kagama) have helped build homes for people affected by floods and landslides in Tinatar village, Pacitan regency, East Java.
This started with a ground breaking event done on Friday (2/1) in Tinatar, attended by Kagama community service team and Galanggo UGM which is a start-up in philanthropy and volunteerism under the UGM Directorate of Business Development and Incubation.
The ground breaking was done at the home for Sabarin, one of the residents. Chief of Tinatar village, Himo Wahyudi, thanked UGM and Kagama that had given care by helping the impacted people in Pacitan. The assistance from UGM will be very useful for the people impacted by the disasters.
Afterwards, the team paid a visit to the Regent of Pacitan, Indarto. He later asked UGM to do a feasibility study on a number of public services buildings, especially elementary schools, which had been damaged in the flood.
Indarto also explained the plan to develop cow breeding project for the Pacitan people. He hoped UGM would study the areas which are appropriate for such breeding.
Meanwhile, Kagama's Deputy Secretary General for Community Service, Dr. Ahmad Agus Setiawan, said during the visit that his office would submit a proposal to UGM in order that students would be dispatched to Pacitan for community service programme, particularly to areas impacted by the recent disasters.