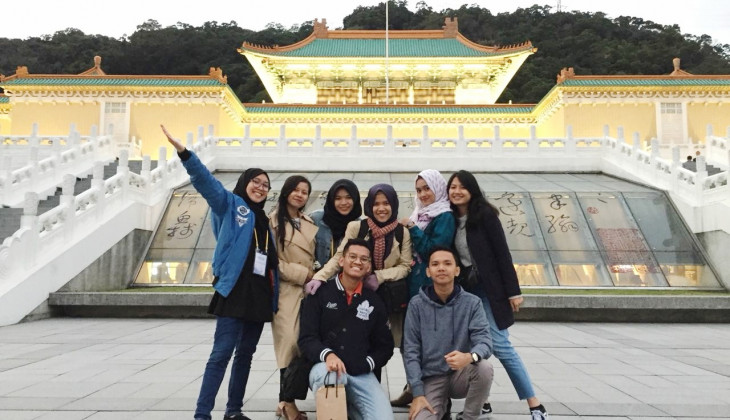 Eight students of Universitas Gadjah Mada represent Indonesia in the Winter Camp 2018 Taiwan Tech programme, hosted by National Taiwan University of Science and Technology. They are Muhammad Dzaky Alfajr Dirantona (Management), Meilani Adriyati (Civil Engineering), Paxia Novarin (International Relations), Naufal Fadhlullah Sayuti (Law), Riskha Adelia Nurinda (Agricultural Industry Technology), also Mawar Lestari, Kumala Puspasari, and Nadiyah Asri Dewanti from Vocational Shool. They have been selected to join the programme from 21-27 January 2018 in Taipei.
Winter Camp 2018 Taiwan Tech that is sponsored by Taiwanese government aims to promote Taiwan to Asian students. Participants are invited to tour Taipei and communities, make company visit to Brighten Optix and E&E Recycling, and lab visits.
At the end of the programme, participants that are divided into groups submit a presentation on technology innovation which is applied by Taiwanese government.
Competition is held in this category where delegates from Universitas Gadjah Mada (represented by Dzaky and Riskha), Taiwan Tech, University of the Philippines, Tokyo Institute of Technology, and Institut Teknologi Sepuluh Nopember won the best presentation category. In their presentation Dzaky mentioned the problems facing Taiwan, which are language barrier, high fatigue level among factory workers, access to halal food, and high level of air pollution.
According to Dzaky, these issues can be tackled by solutions such as student community service programme where students teach English to vendors in tourism destinations. He said on Monday (12/2) that they suggested Taiwanese companies to apply exoskeleton (external framework) that acts as body support to factory workers. On halal food, they recommended the government to produce a directory application for halal restaurants. While on air pollution they suggested the use of paint that can adsorb pollution in roads and factories,
Meilani added the Winter Camp 2018 Taiwan Tech aimed to build unity and relations between Asian students, also to learn technology development in Asia, particularly related to machines and science.
"Through the experience and knowledge, the participants would be able to increase their contribution to the problem solving in their country,"she said.