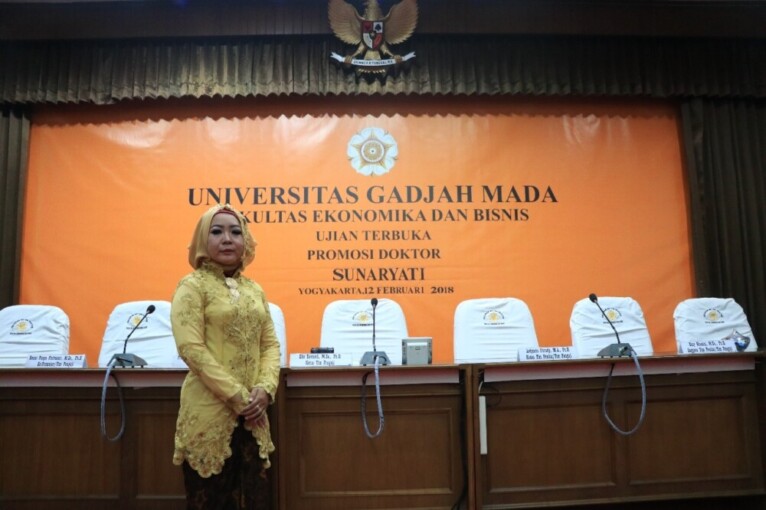 Family saving is an important topic for families in Indonesia. It is used to do consumption smoothing when the family is facing problems, such as when the bread winner is dismissed from work, getting sick, or retiring. When retirement comes that is not balanced by adequate social security or insurance, the individual may experience welfare decrease in their senior years. The family saving enables the person to transfer some of their income when working to the time when they are not.
Generally, study on family saving using data aggregate is aplenty. Some recent studies have developed overlapping generation model to see the role of demography variables to family saving. Sunaryati, lecturer of Faculty of Islamic Economy and Business from Universitas Islam Negeri Sunan Kalijaga, studies the influence of cohort, demography structure, insurance and retirement funds for her doctoral degree promotion in economics at Faculty of Economics and Business, Universitas Gadjah Mada, on Monday (12/2).
Sunaryati's research showed empirical evidence of hump-shaped family saving patterns in Indonesia. This indicates the prevalence of life-cycle saving in the context of Indonesian households.
"Households will accumulate assets when they earn money and decumulate them when they retire," said Sunaryati.
Meanwhile, the test result of demographic structure influence on family saving done by Sunaryati showed that the number of adult children has negative influence on family saving. The condition, in her opinion, indicates that the adult children serve as old age security substitutes for their parents. The number of dependants have negative influence on family saving. This showed that the number of siblings has significant positive influence on family saving.
"The number of siblings indicates the tendency for Indonesian households to be independent and not relying on their extended family," said Sunaryati.