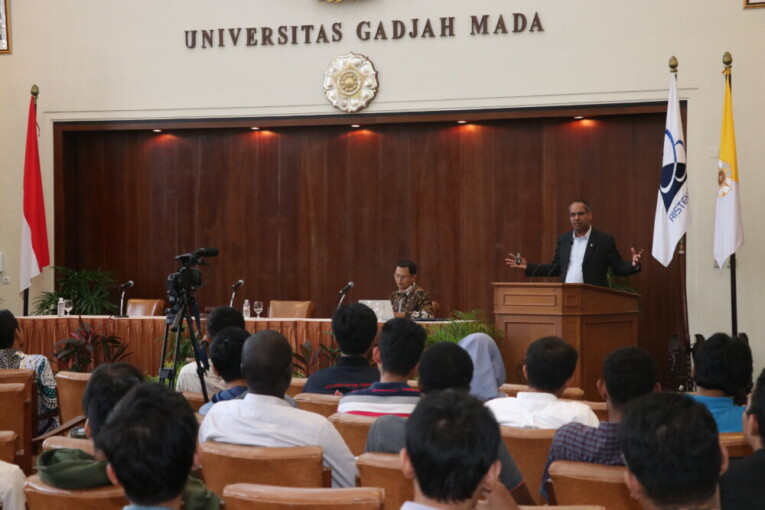 Director of Rolls Royce for Asia Pacific and South Korea Region, Dr. Bicky Bhangu, said innovation and leadership were key factors to developing corporate business to meet technology disruption.
This was said by Bicky whilst delivering a speech in the Senate Hall of Universitas Gadjah Mada on Monday (20/2). Themed Innovation Amid the Era of Disruption, Bicky stated Rolls Royce as a car, plane, and plane machines maker continues to make innovation amidst the technology change that is rapid and progressive. "Technology disruption has brought many changes, even the future of any companies cannot be predicted," he said.
To do the innovation, said Bicky, Rolls Royce in 2016 invested US$1.3 billion in funds to generate 672 patents in products of technology and fabricated machines. "We have cooperated with 31 campuses and research centres in several countries for technology and manufacture," he said, adding that "We team up with Advanced Remanufacturing and Technology Centre (ARTC) in Singapore for fabrication research," he said.
Bicky said in terms of innovation, Rolls Royce was developing hybrid power generated trains for which they were combining electricity and diesel power. In addition, they are developing hybrid ships, new airplane models, microgrids, and hybrid airplane.
He said what they achieved now was the result of what their innovators had made previously. Bicky told the UGM students that challenges facing a technology company to win the disruption era competition were to maintain one's capacities in producing creative ideas, seeing ideas through business context, as well as conducting technology evolution and creating great technology.
UGM Vice-Rector for Research and Community Service, drg. Ika Dewi Ana, M.kes., Ph.D., said UGM continued to encourage research downstreaming done by researchers and lecturers. This was to make beneficial research for technology development in the country. "Since 2014, UGM has downstreamed research in sectors such as pharmaceuticals and health," she said.
Ika said that UGM would continue to invite CEOs of technology companies to share information and experience as well as motivate the students on creative innovation in their field of expertise.