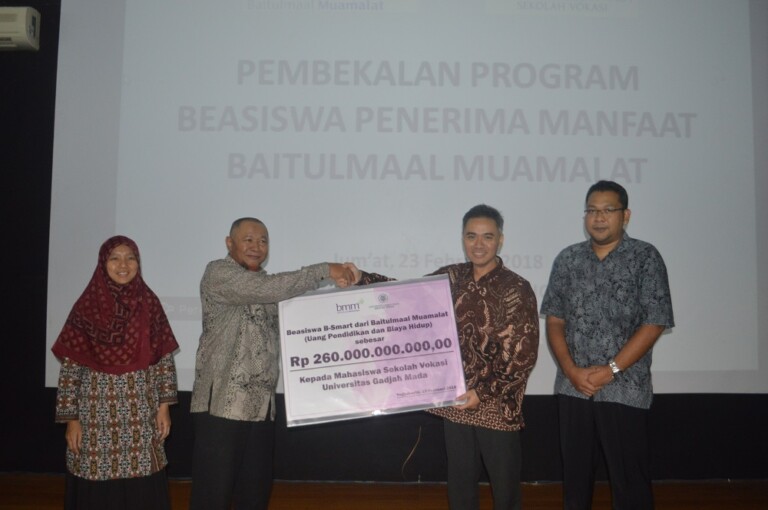 As many as 25 students of UGM Vocational School have received scholarships from Baitulmaal Muamalat.
A scholarship handover was symbolically done by Director of Baitulmaal Muamalat, Bambang Kusnadi, to Dean of the School, Wikan Sakarinto, Ph.D., on Friday (23/2) in the Elisa Nugroho room of Biotechnology and Veterinary Department in the School.
The scholarships amounting Rp260 million are to help the study of UGM Vocational School students. Bambang Kusnadi said Baitulmaal Muamalat was a national charity agency that collects alms from citizens. The funds are distributed to various areas, including education.
"We hope the scholarship presentation would give inspiration and blessings to the students so they become better," he told the scholarship recipients.
Bambang Kusnadi hoped the students would be able to benefit from the scholarships. "Hopefully, the students may use the scholarship well and they can be pioneers of the national move to lift the nation's situation," he said.
Dean Wikan Sakarinto appreciated the agency for the scholarships. The recipients had gone through a selection in advance to receive them.
"Thank you for the trust to provide the scholarships for the School. The twenty five students would carry the mandate to use the funds well," said Wikan.
Prior to the event, an opening of a prayer's room was done at the Economics and Business Department of the School, funded by Baitulmaal Muamalat. The opening was done by a ribbon cutting ceremony by both Baitulmaal Muamalat director and the Dean.