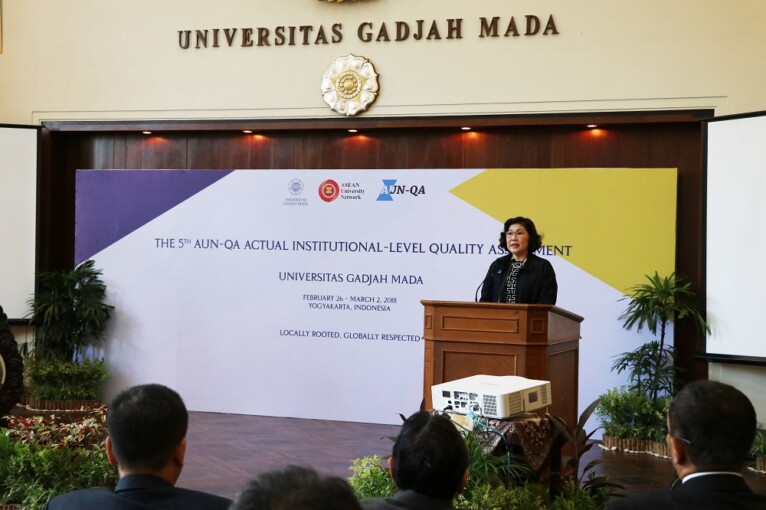 ASEAN University Network on Higher Education for Quality Assurance (AUN-QA) has done quality assurance of assessment on education and teaching quality of Universitas Gadjah Mada (UGM).
The institutional assessment of UGM will be done from 26 February – 2 March 2018. Assessors team from the AUN -QA will conduct this through visitation to the Rector, Board of Trustees, Academic Senate, Directors, lectures, students, and staff.
Rector of UGM, Prof.Ir. Panut Mulyono, M.Eng., D.Eng., saidUGM continued to improve global recognition by improving its scientific publication, research collaboration, student and staff exchange, and international accreditation.
Panut hoped the assessment process would run well that could improve the quality of education, teaching and graduate quality.
"UGM continues to improve the quality of its graduates that can be competitive at the international level and contribute benefits to the state and the world," he said on Monday (26/2) when receiving the assessors of the AUN-QA in the Senate Hall.
Executive Director of AUN-QA, Prof.Dr. Nantana Gajaseni, mentioned that the AUN-QA assessment was part of the efforts to improve the higher learning quality. Currently, there are four universities in ASEAN have already been assessed.
"There are now four 4 universities in ASEAN that earned institutional assessment from AUN-QA and UGM will be the fifth institution to be assessed," she said.
Nantana appreciated the commitment of UGM that continues to collaborate with the AUN. She hoped the results of the assessment would be beneficial to the improvement and development of the quality of education and teaching at UGM.
AUN-QA assessment consists of 25 criteria, which are QA strategic, QA systemic, QA functional, and results. The assessment covers system of planning, implementation, evaluation, and follow-ups to be conducted by UGM.