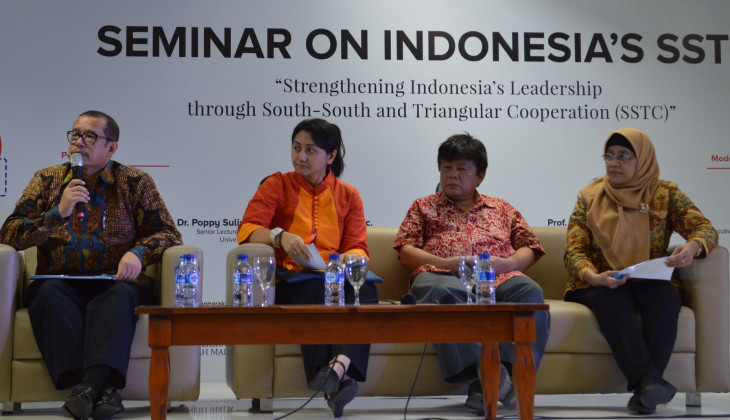 With the increase of Indonesia's status as a Middle Income Developing Countries and membership of G-20, Indonesia has now taken the role as aid provider instead of receiver. Through the South - South and Triangular cooperation scheme, Indonesia more actively gives aid to other developing countries in capacity and engineering building, also in three programmes of excellence, namely development, good governance, and economy.
Director of Technical Cooperation in the Foreign Affairs Ministry as well as Chairman of National Implementation Coordination Team, Muhammad Syarif Alatas, said Indonesia has enhanced its leadership through the South - South and Triangular cooperation.
"The government's priority for medium term development programme is to enhance Indonesia's role in South-South cooperation. Indonesia contributes more to world peace because the programme offers the solution to sustainable development," said Syarif Alatas at Faculty of Social and Political Sciences UGM on Wednesday (28/2) in the Seminar Strengthening Indonesia's Leadership through South-South and Triangular Cooperation.
Syarif Alatas explained the need for Indonesia to increase its role in the forum and be active in managing the aid for countries in need.
"From year to year, technical and capacity aid continue to increase. Other countries that receive them appreciated this. Along with these developments, now our agencies (Bapenas, Kemenlu, Sekneg and Keuangan) no longer works partially but nationally to be more integrated," he said.
The technical aid comes in the form of training, apprenticeship, expert, knowledge sharing in agriculture, fisheries, tourism, infrastructure, good governance, women's empowerment, education, etc.
Representatives from USAID, Nico Yahya Luping, welcomed the programme, saying the South-South and Triangular Cooperation gave opportunities to developing countries to help each other in line with their needs.
Nico Yahya Luping said the US Government acknowledged Indonesia's major improvements in economy and democracy as well as its active membership of ASEAN, APEC, and G-20.The expanding leadership of Indonesia has made the country get recognised more widely. This has encouraged other countries to form partnerships with Indonesia.
The Seminar was hosted by the US government, Indonesian government, and Universitas Gadjah Mada. It presented speakers from Foreign Affairs Ministry for Multilateral cooperation, Fikry Cassidy, Deputy Dean at Faculty of Social and Political Sciences UGM, Dr. Poppy Sulistyaning Winanti, M.P.P., M.Sc, President Director of CV. Karya Hidup Sentosa/ Quick Tractor Indonesia, Hendro Widjayanto and Acting Head of Multi Media Academy MMTC, Prof. Dr. Gati Gayatri, MA.
Poppy Sulistyaning Winanti added Indonesia's engagement in the South-South Cooperation has interests to help other countries as well as promote Indonesia products such as noodles, agriculture products, soap, etc.