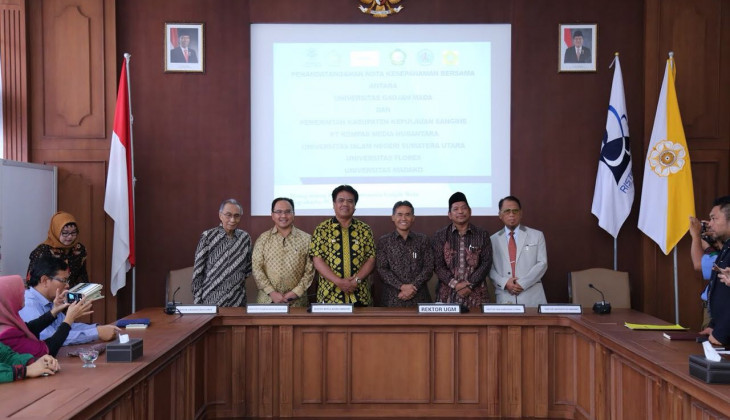 Rector of UGM, Prof. Ir. Panut Mulyono, M.Eng., D.Eng., signed a Memorandum of Understanding (MoU) with five partners on Tuesday (6/3) in UGM Conference Room.
The five partners are PT Kompas Media Nusantara, the regency government of Sangihe, North Sulawesi, Universitas Islam Negeri North Sumatera, Universitas Flores, East Nusa Tenggara, and Universitas Madako, Central Sulawesi.
"We welcomed the cooperation warmly. We hope the MoU would be followed up with things to collaborate on," said the Rector of UGM.
Panut said the cooperation was a form of realisation of UGM goals to benefit the society by direct involvement through giving solution to the society or by devising technologies that may give bigger impacts to national development.
Director of PT Kompas Media Nusantara, Budiman Tanuredjo, said the agreement was a formalisation of cooperation between both parties that had actually gone a long time. Continuous increase of cooperation was the principle of this cooperation to contribute together to society's advancement.
"I believe that what we've done together is to educate the nation," said Budiman.
Meanwhile, the Regent of Sangihe, Jabez Ezar Gaghana, appreciated UGM for having made positive impacts to the regency, especially through student community service in the past few years. Therefore, the regency signed another agreement with UGM to sustain the good impact.
"In the first MoU, we have really enjoyed the benefit of having UGM in our regency, particularly in UGM student community service and our children studying at UGM," he said.
He added that the UGM students doing community service in Sangihe had given recommendation to the regency's policy making . He said this was helpful for the local government to implement their development process.
The UGM Rector also signed agreements with the three universities on education, research and community service.
"We had been given training from UGM on quality assurance and the result was observable instantly. We have earned a B accreditation, which was extraordinary to us. We hope there would be another cooperation to be made that would give much better results to build Ende city," said Rector of Universitas Flores, Prof. Dr. Stephanus Djawanai, M.A.