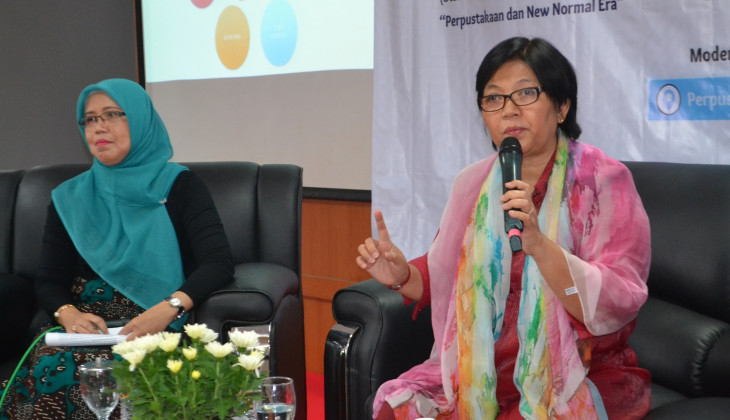 Rapid development of technology has changed the behaviour and lifestyle of people. This issue needs to be responded by library administrators to meet the needs of the millenial generation by making the library a place not just for borrowing a book, but also for having discussion and coffee.
This emerged in a national seminar themed Library in Disruption and Post-Disruption Era on Tuesday (13/3) in the UGM Library.
The seminar is done to celebrate the 67th anniversary of the Library. It presented speakers from UGM Faculty of Psychology, Dr. Neila Ramdhani, M.Si., Director of Marketing of PT Infomedia Nusantara, Andang Ashari ST, MT., and senior researcher of UGM Library, Ida Fajar Priyanto, Ph.D.
Dr. Neila Ramdhani said the changing people's behaviour in the disruption era need to be responded by libraries to give better services, especially to the millenial generation as users.
"The millenial generation likes detailed information very much," she said, adding that they are also smarter, think fast, and responsive that we need to listen to them and give them chance. But they are also pressured much due to the competition to get information which is very fast happening around them.
"They live under pressure and we have to give them facilities for comfort," she said.
Andang Ashari ST, MT., said library was facing the challenge in the form of low literacy level. "Just one in 1,000 people like reading a book. Of 61 countries surveyed by the Unesco, Indonesia ranks 60, but the library ranking is at 36," he said.
The low literacy level, according to Andang, has spread hoax even further. "Due to the low reading habit, those that speak vaguely are considered the right one and the many 'likes' in social media is considered to be true," he said.
Andang explained despite the low literacy level, Indonesian people like to get information through search engines on the internet. "They are familiar with the search engines on the internet, there's the habit of 'share', and discuss contents of the information they get," he said.
That was why, he said, library need also to respond to the behaviour of the millenial generation by providing co-working space in the library. Andang also said library administrators need to improve their technology facilities. "The young people now prefer anything to get connected to their smartphones, if looking for books, these have to come in digital form and always connected to the internet," he said.
Ida Fajar Priyanto, Ph.D., said library administrator need to learn the user to know their preference. "We know now that some of the current generation like visuals and motion, some practice it, some others are on their own in the library; all of them need to be facilitated," he said.
He admitted the behaviour of library visitors has now changed. Previously, library was known as a quiet place for those that liked to read a book. Now the library has become a place for group learning activities and place of community gathering.