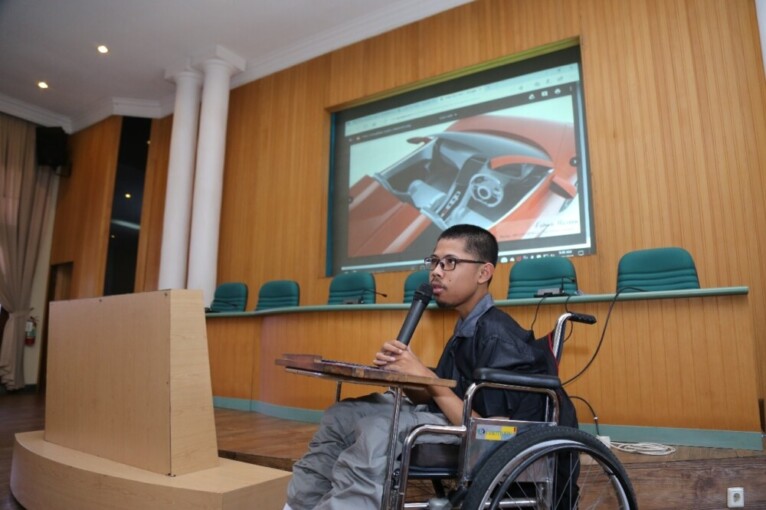 Limited abilities have never stopped Muhammad Fahmi Husaen, Computer and Information System student of UGM, from making achievements.
Despite his physical condition affected by Duchne Muscular Distropy (DMD) disorder, he made an achievement in the Electric Car Design Contest organised by Muscle Car Indonesia (MCI) 2018. Fahmi is one of Top 5 Best Design, beating 82 participants from across Indonesia.
Having DMD made Fahmi's muscles not at their maximum strength, hence Fahmi had been unable to walk since fourth grade. The son of Anik Marwati and Murtandlo since then had to rely on the wheelchair.
The young man born on 18 May 1997 has worked hard to design the car in the past month for the contest themed roadster car. He designed an electric car which is dynamic and elegant.
"The concept of design of my electric car is dynamic and elegant, which is dynamic body type to maximise wind flow for increasing the controls, but the car has a simple design," he told journalists at Multimedia Room of UGM.
Fahmi's success was thanks to the support from his family. His mother always accompanied him in all of his activities, including the car competition.
Since his junior high school, Fahmi had joined competitions. He once won the third place in the Indonesia ICT Award 2010, and silver medals in the National Science Olympiad (OSN) for Disabled People 2015. He also published a book on 3D car design.
At one time Fahmi was depressed because of his limited abilities. But he tried to be thankful with his condition. It appeared that it did not limit him from being creative and achieving.
"Don't get scared by limitations. Don't fear making achievement and do what you can," said Fahmi that wants to establish a digital start-up on product design. He also wants to develop a car design which is disabilities friendly.
His mother always supports and encourages Fahmi to continue doing things he can. She also does this to her two other sons who have shown to have the same symptoms of DMD.
"I keep encouraging Fahmi to always make achievement and do beneficial things. Please pray for Fahmi to always be healthy and successful," she said.