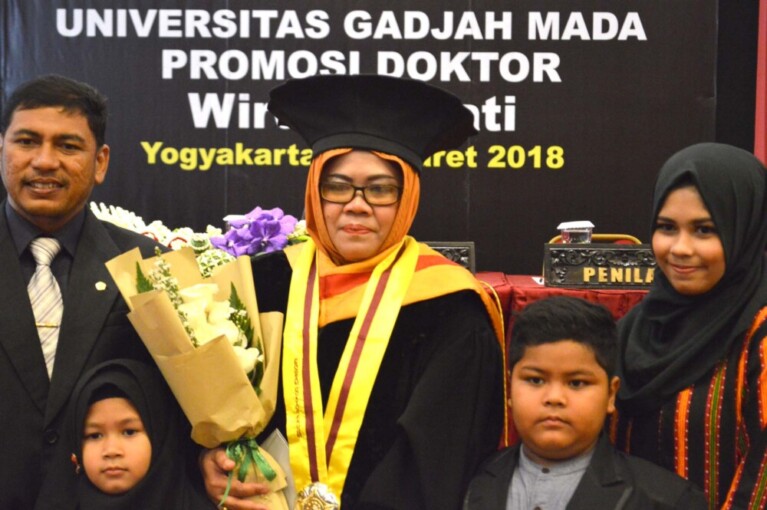 To confirm a disease in children often needs more than a single diagnosis. Therefore, an integrated implementation to treat sick young children is required. The integrated management of childhood illness developed by the WHO since 1999 has actually been implemented in community health centres, but it has not been optimum due to a number of reasons, including the nursing human resource. Hence, nursing students need such integrated management learning at pre-service level.
The issue was delivered by Wirda Hayati, doctoral student of Faculty of Medicine, Public Health, and Nursing UGM, in her doctoral promotion on Tuesday (20/3) in the Auditorium of the Faculty.
In her dissertation titled Learning Model of Integrated Management of Childhood Illness Using Experiential Learning Method among Nursing Students in Aceh, Wirda said the students need a learning method that can give repeat learning experience to increase their knowledge, skills, and attitude so they have clinical competence. "One of the learning methods is experiential learning, which gives active learning experience and learning from other people's experience," she said.
The research involves 92 Aceh students that implement the Integrated Management of Childhood Illness with experiential learning method. The result showed increased knowledge scores of the integrated management. "There is increase in terms of procedural knowledge, attitude, student's autonomy, skills, self-efficacy, and practices of integrated management," she said.
The integrated management done for 7 days by the students, 3 days of practice in the community health centre for children aged between 2 months – 5 years old, and four days in society for newborn babies until below 2 months old.
According to Wirda, learning using integrated management case study could improve the nursing student's critical thinking. "Case study method also facilitates the students to build their perception of nursing practices in the future," she said.