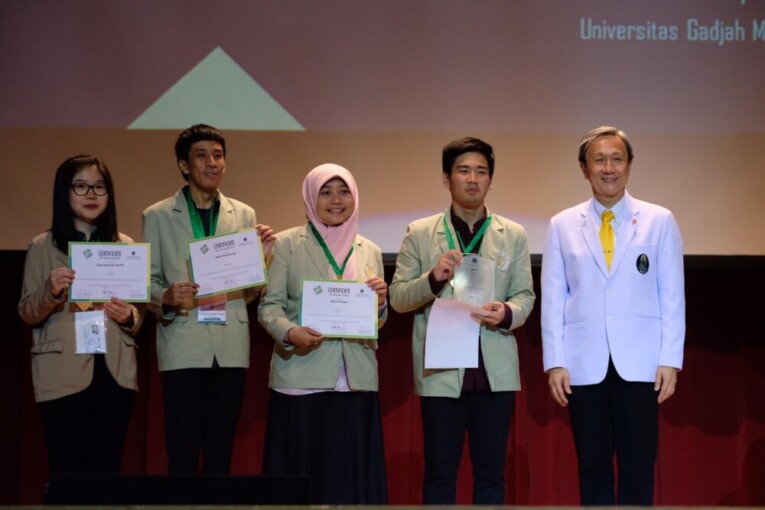 UGM students have now made another international achievement. This time, the students of Faculty of Medicine, Public Health, and Nursing has become the winner of the 7th Siriraj International Microbiology-Parasitology and Immunology Competition (SIMPIC) 2018, held on Monday (19/3) at Mahidol University, Bangkok, Thailand.
The competition is joined by 61 teams from several countries in the world. UGM sent two contingents to the event. The first team consisted of Marcellus, Wynne Wijaya, Audric Kenny Tedja, and Hana Fauzyyah Hanifin, while the second team consisted of I Putu Aditio Artayasa, Maria Patricia Inggriani, Amelia Nur Khasanah, and Annisa Fajriani. During the event, they were accompanied by lecturer dr. Didik Setyo Heriyanto, PhD, and dr. Rina Susilowati, PhD.
After a series of selection process, UGM 1 team went through to the finals with scores 68.40, winning team award. They beat De La Salle Health Sciences Institute – Philippines that scored 38.40, Universitas Indonesia (32.64) and their host Faculty of Medicine, Siriraj Hospital, Mahidol University (28.16). Three UGM students, Audric Kenny Tedja, I Putu Aditio Artayasa, and Maria Patricia Inggriani won bronze medals in the individual award category.
"Last year we were the runner-up in the SIMPIC 2017 competition. This had inspired us to join the current competition to be number one," said Marcellus on Thursday (22/3) at Faculty of Medicine, Public Health, and Nursing UGM.
The team had prepared themselves for the competition since December 2017 under the guidance of dr. Rina Susilowati, PhD, dr. E. Elsa Herdiana, MKes, PhD, Prof. dr. Tri Wibawa, PhD and dr. Titik Nuryastuti, MSi, PhD.
"For the next competition, we need to retain the achievement by making better preparations," he said.