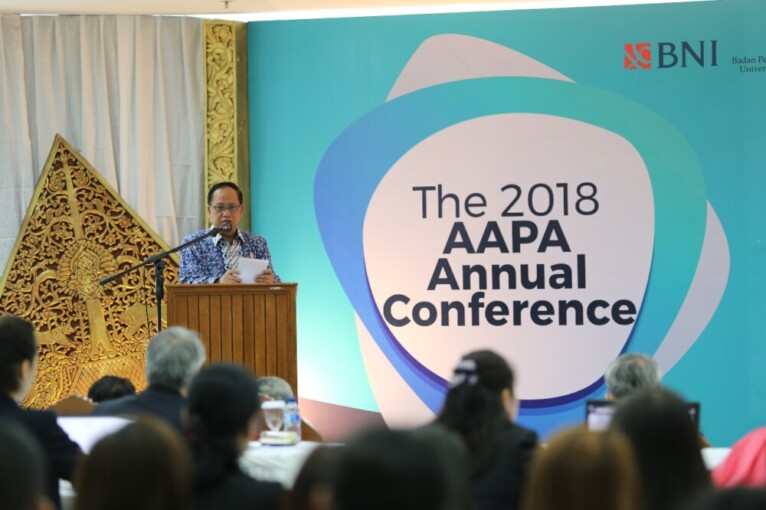 Faculty of Social and Political Sciences UGM hosts the 2018 Asian Association for Public Administration (AAPA) Annual Conference this year from 22-23 March 2018.
Attended by academics, practitioners, and state officials from 20 Asian countries, this conference is a forum for sharing ideas on the concept of pro-people state administration that is supporting Sustainable Development Goals (SDGs).
"One of the goals of governments is to achieve the 17 goals of SDGs which covers various aspects, such as education, health, environment, or social justice," said AAPA chairman, Dr. Pan Suk Kim, during the opening of the event on Thursday (22/3).
He revealed public policy had important role to achieve SDGs target amidst the global political condition and industry revolution. In his opinion, Asian countries, therefore have to work together and rise as a respected world power.
"What we need in Asia is cooperation, not conflict. Mutual understanding is required to achieve common welfare," he said.
The conference is a collaboration between Faculty of Social and Political Sciences UGM, AAPA, State Administration Agency (LAN), Indonesian Association for Public Administration (IAPA), and Ministry of State Apparatus and Bureaucracy Reform.
Themed Reinventing Public Administration in a Globalized World: A Non-Western Perspective, the conference focused on non-western public administration so that Asian developing countries need no longer adopt Western models.
Research, Technology, and Higher Education, Prof. H. Mohamad Nasir, Ph.D., Ak., that opened the conference appreciated it, saying that research is one of the important things in public administration apart from research in food technology, defence, renewable energy, maritime, and 5 others.
"It's important for us to develop research in public administration. We realise the need for a dramatic change. I wish this conference can also become the media for information sharing," said the Minister.
Chairman of IAPA, Prof. Dr. Eko Prasojo, said public sector reforms were a priority for Indonesia Aspects to promote them include trust building, facilitation and empowerment, coverage, and innovation. He hoped these all could be developed in the conference.
The opening of the AAPA conference was marked with a gong beating by the Minister, accompanied by AAPA chairman, IAPA chairman, Rector of UGM, Prof. Ir. Panut Mulyono, M.Eng., D.Eng., Dean of Faculty of Social and Political Sciences UGM, Dr. Erwan Agus Purwanto, and professor of Management and Public Policy Department, Prof. (ret.) Dr. Sofian Effendi.
"We hope in the conference we could reflect our policy and strategy," said the Rector,