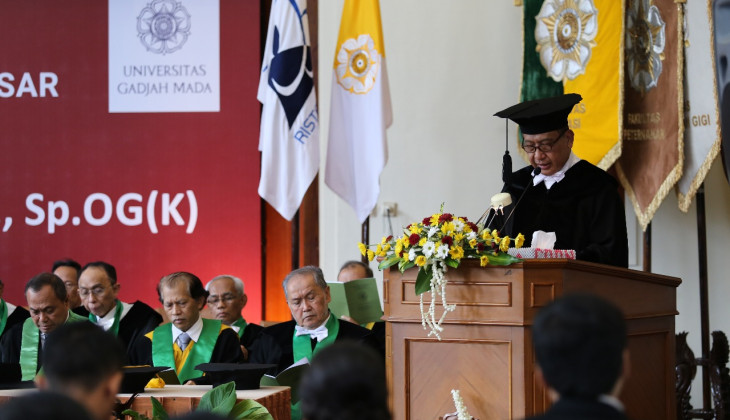 Ovarian cancer is a gynecologic cancer that ranks third in Indonesia after cervical and corpus uteri cancers. An optimum treatment is required to increase the life of ovarian cancer patients by increasing the number of interests in consultant gynecologic oncologist profession.
"The number of consultant gynecologic oncologist is 97 who are mostly in education centres, while the number of obstetrician and gynecologist specialist until end of February 2018 accounts for 3,861," said Prof. Dr. Dr. Heru Pradjatmo, M.Kes., Sp.OG(K) in his professorship inaugural remarks of Faculty of Medicine, Public Health, and Nursing UGM on Wednesday (28/3).
Heru explained research had shown risk factors of ovarian cancer include genetic, environment, and lifestyle. But clinically the development of ovarian cancer is different from cervical cancer as it has not obvious clinical symptoms which makes it difficult for early detection. Ovary is also difficult to reach as it is inside in the hip between visceral organs, hence, sample taking from the ovarian tissue is not possible to do without invasive procedures. As a result, 65-75% of ovarian cancer cases are diagnosed at a later stadium.
"Ovarian cancer is rarely found in early stadium because it develops unnoticed and almost no symptom," he said.
Thus, researchers in gynecologic oncology are challenged to find an early diagnosis observation method for ovarian cancer patients that is non-invasive, specific, and sensitive so as to increase the life of the patient.
Besides, obstetrician and gynecology specialists as the front guard of gynecologic cancer treatment, particularly ovarian cancer that has high mortality rate, have to be more selective in treating cases with ovarian tumour as to which case can be treated at the treatment original site and which case needs to be referred to a more adequate site.
This becomes important especially in the midst of BPJS (health security insurance) era where patients are referred from primary to secondary health services where the OB-GYN doctors are.
"This is where the OB-GYN doctor has a great role to do the selection by determining the scores of malignancy index, hence able to determine which case can be treated in the origin place of treatment," said Heru.
He concluded by saying that the role of OB-GYN doctors to be able to give optimum services to ovarian cancer patients can be done by referring to the agreed recommendation as well as improving the referral system up to the third level of health services for cases that cannot be treated.