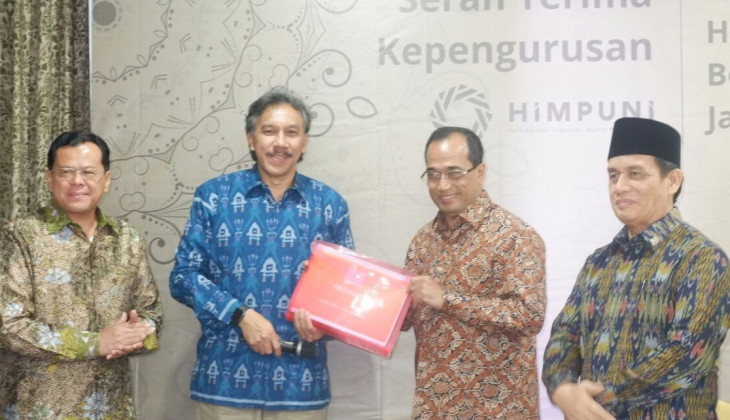 Association of State University Alumni Organisations (HIMPUNI) handed over leadership from Presidium I to Presidium II in Jakarta on Thursday (5/4). The event was attended by coordinator of Presidium I of ITB Alumni Association, Ridwan Djamaluddin, and Budi Karya Sumadi, coordinator II who also represented Alumni Association of Universitas Gadjah Mada (KAGAMA). Later on, Chairman of KAGAMA will chair Presidium II of HIMPUNI.
Presidium I term of service last from 1 April 2017 – 31 March 2018. At least 32 alumni organisations from all state universities in Indonesia have been engaged in the HIMPUNI. Since its establishment, HIMPUNI has done scientific projects, social, cultural, and sports events, collaborating with other alumni organisations joining the association.
The period of Presidium I saw several work programmes such as formation of 16 working groups. Presidium I further planned to socialise and introduce HIMPUNI and its programme to Vice-President and ministerial level officials in May and June 2018. HIMPUNI also organised a traditional play (Ketoprak) performance to sustain national culture.
HIMPUNI has the principle of non-partisan while respecting equality and togetherness. This organisation aims to contribute itself to the advancement of the state. HIMPUNI further asked for support from society to work together for the nation.