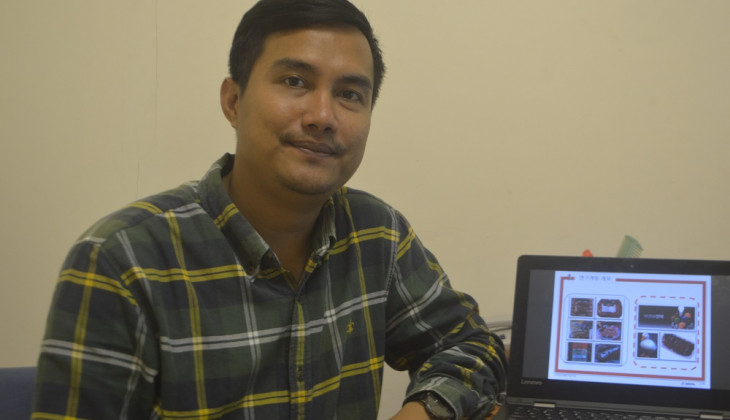 Who does not love duck meat? Many people love duck meat that can be transformed into various appetizing cuisine, including fried, grilled, roasted and betutu-styled duck. But, did you know that you can turn duck meat into jerky?
"Duck meat can be processed into various cooking, one of them is honey duck jerky," said UGM Researcher, Dr. Endy Triyannanto, S.Pt., M.Eng. during an interview in Laboratory for Meat Science and Technology, Faculty of Animal Science UGM, a few days ago.
Endy revealed that, in Korea, duck meat has often been processed into jerky. He then began to innovate by making honey duck jerky from the tenderloin of duck meat that was not widely used and usually thrown away.
"In Korea, duck tenderloin is usually thrown away and I am trying to utilize the meat because it has a high protein content," explained the lecturer of Animal Product Technology Department, Faculty of Animal Science UGM.
Research in developing the processed honey duck meat was conducted by Endy while undergoing a doctoral program at Gangneung-Wonju National University, Korea, in 2015.
During the processing, Endy conducted a test with three different treatments, which was adding humectants into the duck meat, including honey, rice drops and sorbitol. The result showed that the most optimal result was by adding honey that could reduce water activity up to 0.7.
"The addition of honey makes the meat more tender, creates a distinctive color, and gives the favored sweetness," he explained.
Endy informed that honey contained about 200 beneficial nutrients for the body. Some of the nutrients are vitamins, proteins, minerals, organic acids, flavonoids, phenolic acids, enzymes and other phytochemicals.
"Honey contains antioxidants that also acts as food preservative. High antioxidants will slow down the process of oxidation, thus preserving the food from smelling bad," he explained.
Processing of honey duck jerky was conducted in several steps. First, the frozen duck meat was chilled in a temperature of 5°C. The process of liquefying frozen duck meat from the freezer was done overnight.
For the next step, duck meat was ground and mixed with additional humectant. Then, the meat was stuffed using jerky gun and heated in the oven gradually.
The heating process is aimed to kill bacteria and drain the water content. During the draining process, low temperature was used to gently release the water content to keep the texture of the meat tender.
Then, the processed meat was chilled before packed using polyamide. With proper packing, honey duck jerky can last up to 3 months. For instance, packing with a vacuum and the addition of oxygen absorber.
Endy said that jerky or dendeng has become a popular and easily found snack all over the world. Therefore, this honey duck jerky is a new innovation of jerky.
This innovation is not only an alternative way to consume duck meat for the society. It also becomes one of the solutions in supporting national food security.
According to him, honey duck meat has the potential to be developed in Indonesia, especially after observing the increase in duck meat consumption in recent years. In the future, honey duck jerky will also use duck breast and other body parts, instead of only use the tenderloin as in Korea.
"This honey duck jerky can be one of our national culinary options," Endy concluded. (Public Relations UGM/Ika)