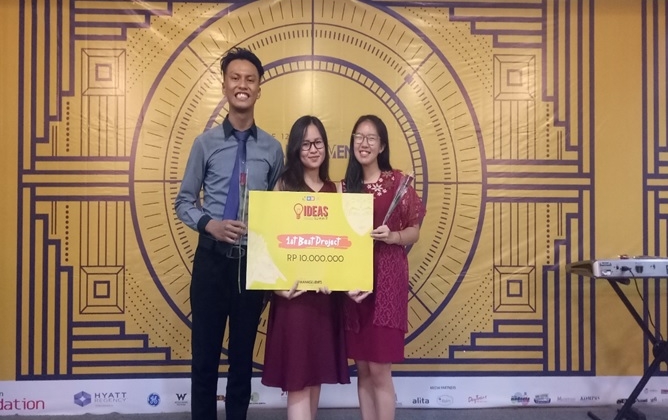 Students of Universitas Gadjah Mada have made another ooutstanding achievement. Student of Faculty of Economics and Business won the the First Best Project title during the IDEAS Summit Batch 4 competition. The teams with members Graini Annisa, Maura Finessa Winayo and Moh. Andhika Satria Perdana won the competition run by Management Students Association of the UGM Faculty of Economics and Business (IKAMMA) from 8-10 March 2018 in Yogyakarta.
It was not easy for Graini and fellow students to earn the victory. They had to undergo several stages of competition which were abstract submission, proposal submission, and project presentation. In the abstract submission, all participants were selected into 70 teams. They were required to send a business proposal to make best 20 teams. The 20 teams were eligible to take part in the main event to present their business ideas to the juries.
IDEAS Summit Batch 4 was also enlivened with other events such as insight session, conference, and field trip. The competition was closed with a Banquet and awarding for 1st best project, 2nd best project, best marketing, best team, and best delegate titles.
"The social business that we submit was how to make paving block from plastic waste that is collected from waste bank among society. This business gives good impacts to society, also positive impacts to the environment, said Graini.