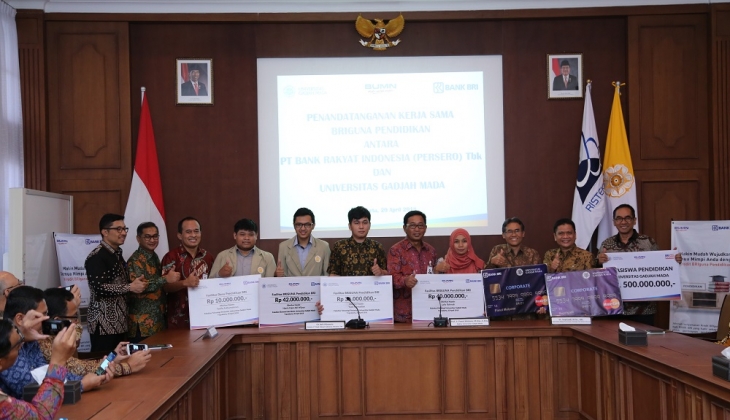 UGM and Bank Rakyat Indonesia (BRI bank) have established cooperation in banking services procurement and utilisation.
Cooperation agreement was put into a Memorandum of Understanding (MoU) between Rector of UGM, Prof.Ir. Panut Mulyono, M.Eng., D.Eng., and Director of Institutional Relations of the BRI bank, Sis Apik Wijayanto, on Friday (20/4) in UGM Conference Room.
Cooperation agreement was also signed on credit facility for student loan, Briguna Pendidikan, by regional head of BRI Yogyakarta, Hari Siaga Amiyarso, and UGM Vice-Rector for Planning, Finance and Information System, Dr.Supriyadi, M.Sc., Akt.
A loan handover was done symbolically to four UGM students as well as education funds worth Rp500 million to UGM students in addition to the handover of BRI Corporate Card.
Sis Apik Wijayanto said the cooperation was a form of commitment of BRI in terms of banking services development for educational institutions. Meanwhile, the student loan is aimed at giving facilities to UGM students from undergraduate, graduate, and doctoral levels.
This cooperation was expected to give convenience to UGM academic community in using banking services through BRI that has branches all over Indonesia. The BRI Corporate Card was also expected to give convenience to the academic community in official duties.
"Hopefully, the cooperation would benefit and give added value to both parties, students, alumni, the state, and the nation," he said.
Rector of UGM, Prof. Panut Mulyono, also hoped the student loan would benefit the students that received the Briguna Pendidikan facilities.
"The funds would be able to help the students complete their studies," he said.
Panut said that education was the most effective way to address poverty problems. Education credit facilities for the students were one of the UGM support to the efforts to educate the nation.
"Through this cooperation, we work in synergy together to advance the country," he concluded.