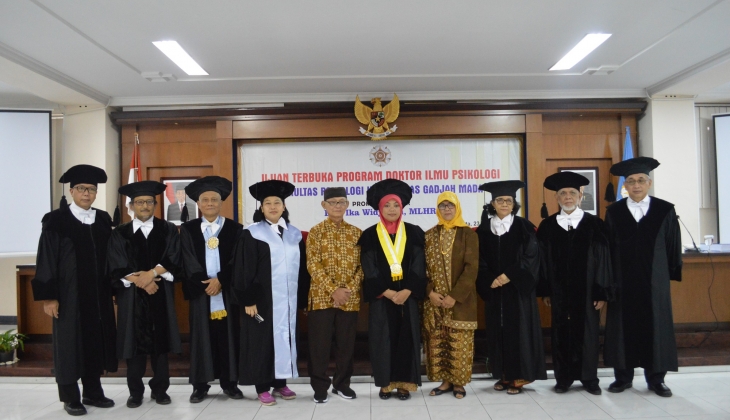 One of the alarms that reminds us of the need of the development of ethical decision making theory in higher learning is related to academic integrity. Society still expects the educational institutions to be the benchmark and instrument that instills noble values among the young generation.
On the other hand, students who are future manpower need to have integrity to face the work market amidst globalisation that requires good work ethics. As such, it is a severe blow if higher learning institutions, instead of showing the ability to maintain honesty value and professional integrity, have produced manpower with poor integrity.
"The report on plagiarism in Kompas daily 10 February 2014 became a major issue and society was disappointed by a certain educator. They were disappointed because one that ought to be a role model in terms of academic integrity had acted otherwise," said Dra. Ika Widyarini, MLHR, in the Auditorium G-100 of Faculty of Psychology UGM in her doctoral promotion examination.
According to Ika Widyarini, therefore it was time for the development of ethical decision making theory model to give greater understanding on how ethics are applied in education areas.

Indonesia currently ranks poorly in terms of system transparency or at 96 of 180 while corruption index score is 37 of 100.
"It turned out that there are still many things to do to build the young generation, if we want to have a wiser future generation for decision making," said the lecturer from Universitas Brawijaya, Malang, East Java.
Ika admitted there being not much theory that has been developed on decision making in the education sphere. While in fact ethical situation that requires the application of virtuous value in character strength and moral emotion often takes place in educational institutions, for instance for research or scientific writing ethics.
Ika said ethical decision making was the choice to produce good decision, which is morally acceptable to other groups or society. She further did the research into the influence of moral emotion and character strength towards ethical decision making.
"Moral emotion is the emotion that responds to moral abuse, or which motivates individual to choose a certain moral behaviour.
Character strength is virtues which are dominant in someone," she said whilst defending her dissertation titled Role of Moral Emotion and Character Strength in Ethical Decision Making. She was accompanied by her team of promoters Fathul Himam, MA., Ph.D, Prof. Th. Dicky Hastjarjo, Ph.D, and Rahmat Hidayat, M.Sc., Ph.D.