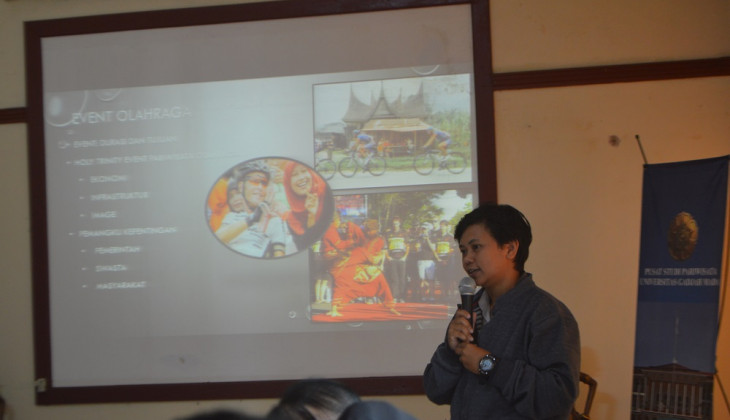 "Sporting events can increase people's interest in tourism," said Dr. Retnaningtyas Susanti in a discussion themed Sports Tourism in Indonesia done at UGM's Centre for Tourism Studies, Thursday (26/4).
Retnaningtyas said sport tourism gave a large contribution to the development of Indonesian tourism industry. Sports events will be able to attract supporters and audience to see the competition.
Soon Indonesia will host the Asian Games, which can be utilised as tourism opportunities for Jakarta, Palembang, and the surroundings.
"Sporting events will have direct and indirect contribution to the economy of the host country, society, and local tourism," said the lecturer from Universitas Andalas.
The alumnae from UGM pointed out an example of surfing competition in Bali and Mentawai, Tour de Singkarak, Tour de Banyuwangi, which were used to promote local tourism. Those events have attracted a number of tourists and developed tourism industry.
"Hosting sporting events can also trigger tourism infrastructure development," she said.
Her research in sport tourism of Tour de Singkarak showed that the event had given a positive impact to the local tourism infrastructure. It had triggered such development in the form of roads, transportation means, accommodations, and public facilities.
"Sporting events may accelerate development process and Infrastructure rehabilitation. So, making use of sporting events may be considered as an effort to develop tourism in the future," she concluded.