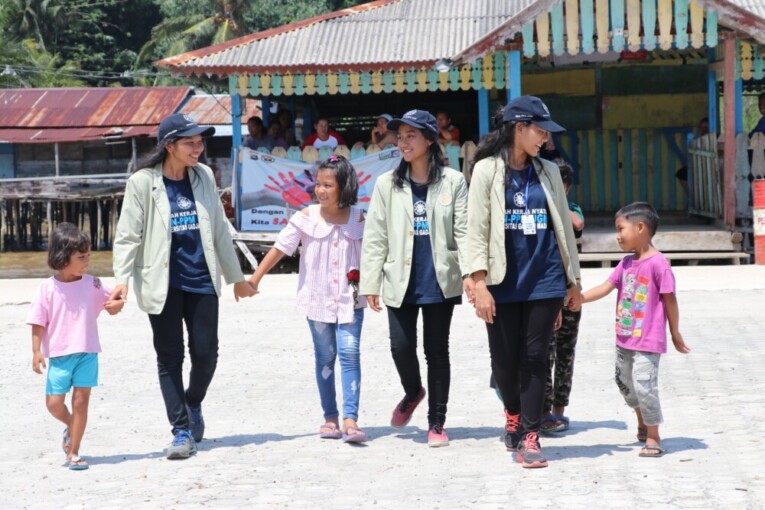 Tens of children gathered at the Suak Gual port in Mendanau islands of Belitung regency. They were singing the theme song of Laskar Pelangi (Rainbow Troops) movie. The movie was based on a book of the same title that went famous internationally due to its depiction of the area. The children were accompanied by UGM students. That Sunday (29/4) was the last day for the students to do their student community service project after a 2-month service in the area. The 28 students were students of Geography, Forestry, Medicine and Animal sciences who were doing human resource development projects to optimise agro-tourism and maritime sector.
The students were trying to optimise the tourism sector from maritime potential and mangrove. They helped the local people realise the Suak Gual forest into Society Forest and develop tourism sector by establishing homestay program for tourists.
"There are seven homestays we already entered into the apps for hotel booking," said chief of students unit in the area, Aji Purnomo.
Aji said to promote the local tourism, the students had designed a website on Suak Gula tourism, while the local youth was trained to speak English to become tourist guides.
"We have published a dictionary containing 500 entries of Suak Gual language and English; we did it for two months by ourselves learning Suak Gual language," he said.
Besides, said Aji, they also developed the local culture by activating the performance of Malay traditional dances.
Chief of village, Febriansyah, appreciated the work of the students that had helped develop their tourism and forestry sectors. "We were very excited to have a website thanks to the UGM students," he said.
He acknowledged the assistance of the students in local government programme related to the map of tourism potential.
"We have been assisted by the Forestry and Geography students to produce maps. We also learn much from them on mapping and this will be enhanced in the future," he said.
During the student community service, the students were facilitated by Alumni association of Universitas Gadjah MAda (KAGAMA) Belitung branch. Deputy Chairman of Kagama Belitung, Yasa, said the presence of the students in Belitung was expected to improve the local human resource in exploring and developing their own potential.
"The student community service is expected to be able to change the mindset of the people of Belitung to get better. Hopefully, there will children from here coming to study at UGM," he said.
UGM Vice-Rector for Cooperation and Alumni, Dr. Paripurna Sugarda, who was attending the monitoring and evaluation event of the project, said the programme had run for over 40 years across the country. "The students that are doing the community service have to be able to identify the problem in the society and resolve that problem," he said.