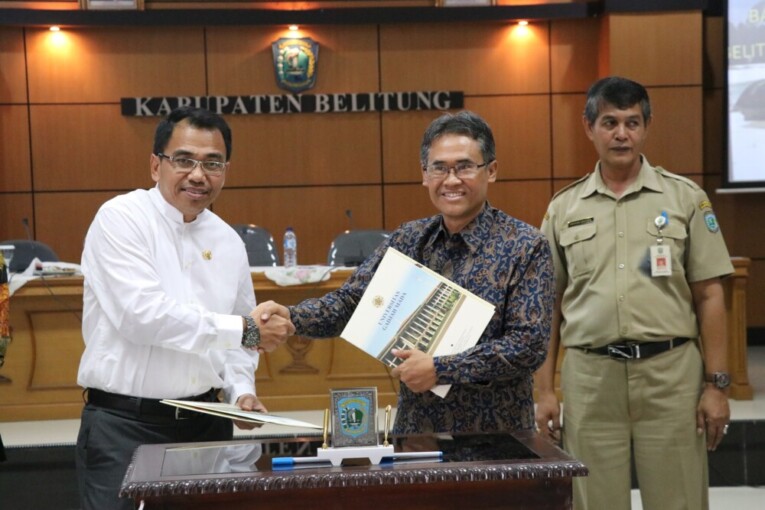 Universitas Gadjah Mada has signed a memorandum of understanding with the local governments of Belitung, Bangka Barat, and Pangkal Pinang regencies as well as Kagama (UGM Alumni Association) Bangka Belitung in areas of education, research, and community service.
At the same time Faculty of Agriculture UGM has established cooperation with Agricultural Agency of Bangka Belitung island for the cultivation of pepper and mushroom.
The signing of the agreement was done by Rector of UGM and representatives from the local governments on Monday (30/4) in Belitung. The cooperation was made to accelerate regional development through innovations created by lecturers from UGM and student community service.
Rector of UGM, Prof. Ir. Panut Mulyono, M.Eng, D.Eng., expected the cooperation agreement to be soon followed up with implementations of innovation and technology from UGM among society. "UGM wants to have good cooperation with provincial government as well as regency and municipal governments so that the science from UGM can be implemented for the regional development," he said.
According to the Rector, lecturers and students would be involved for the follow-up. They even might get new data resources from the field. "Problems found on the field will be brought to class for course enrichment," he said. Such findings will help the lecturers give relevance to research or innovation and real problems.
Through the cooperation, the Rector hoped new knowledge would be generated to accelerate the regional development and improve people's prosperity. "Going forward, the cooperation would be increased to accelerate development in the region as well for UGM," he said.
Assistant to Regional Secretary of Belitung, Mirang Uganda, appreciated UGM that worked with Bangka Belitung local governments to give contributions to society based economic development.
UGM that had sent students for community service programme in several villages of Belitung previously, in his opinion, already helped the local government programme. He expected the cooperation would open opportunities for more cooperation such as in natural resources potential management. "The potential in marine, fisheries, and mining sectors can still be increased through this cooperation," he said.
Also attending the event were representatives from Bangka Belitung, Yunan Helmi, Head of Bangka Belitung Agricultural Agency, Toni Batubara, Chairman of Kagama Bangka Belitung, Warsongko, and Dean of Faculty of Agriculture, Dr. Jamhari.