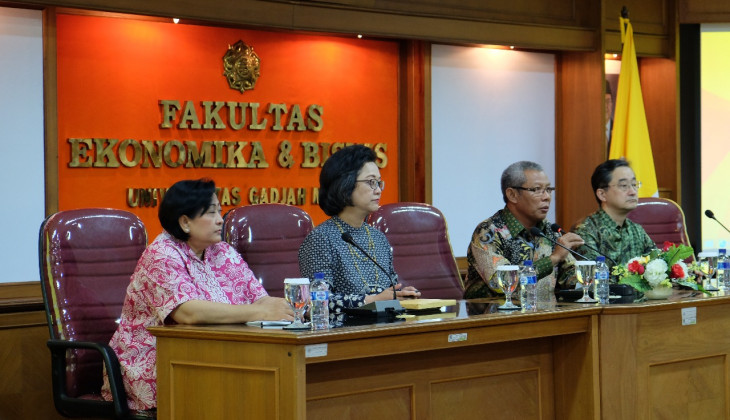 Internet coverage in Indonesia in year 2018 reached half of the population both in rural and urban areas. Apart from wide access to sciences, technology advancement has indeed helped develop the economy of the rural people.
"It was quite unexpected that digitalisation in Indonesia has rooted well. You could check lodgings in rural Gunung Kidul areas and others that have been promoted through Air BNB, while small enterprises have been able to market their products through social media. This is just the potential of digital economy," said Chairperson on Presidential Advisory Board," Prof. Dr. Sri Adiningsih, M.Sc., on Thursday(3/5) at Faculty of Economics and Business UGM in an annual public policy forum, Mubyarto Public Policy Forum, hosted by the Faculty in cooperation with Australian National University (AUN) Indonesia Project. Sri Adiningsih conveyed a keynote speech titled Digital Role in Rural Development and Reducing Inequality.
She explained in the past few years economic development has reduced unemployment, poverty, and gap in rural areas. However, the rates are still high so the government needs to accelerate development still.
At the same time digital economy became commonplace in rural areas of Indonesia, hence opening big opportunities and potential of rural economy development.
"Some of the development programmes have showed results, yet they need to be encouraged more, which include digital economy as we have big potential here to flourish," said the professor from UGM.
To achieve economic growth that is pro-rural society through digital economy, participation and support from anyone are required, from governments, academia, society, business people, NGOs, and young generation. She highlighted the importance of the young people to play an active role in building the digital economy.
"Government continues to develop the infrastructure and facilities, softwares, and empowerment. But we cannot do rural empowerment transformation without the support from everyone. If the young generation can participate actively, we can welcome the digital economy that will eventually minimise poverty rate and gaps of the rural areas," she said.
The public policy forum that was named after UGM economic professor Mubyarto presented speakers from academics, practitioners, and stakeholders. This time it invited speakers such as Chief Economist, Economic Research Institute for ASEAN and East Asia (ERIA), Prof. Fukunari Kimura, and former Head of National Planning and Development Agency (Bappenas), Prof. Armida Alisjahbana.